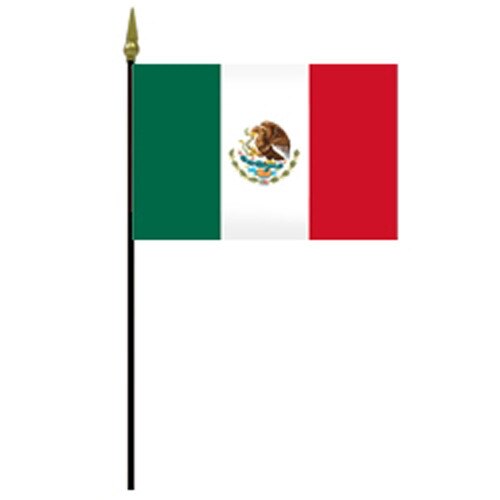 Details
HOW TO ORDER CORRECT QUANTITY: QTY 1 = 12 FLAGS
Mini Mexico flags are a fun and cool way to show off your love for Mexico. These hand held flags are perfect for parades, sports events, rallies and other celebrations. Mini Flags make wonderful keepsakes or giveaways to others as they have timeless appeal and never go out of style. For more information about Mini Mexico flags see the description tab below.
Mini 70 denier nylon Mexico flags are 4" x 6" and are mounted onto a black plastic staff or dowel. Mini Mexico flags have a staff size of 10" x 3/16" and look great in almost any location. The flags feature double stitched fly ends which extend longevity and allow for multiple use.
Carrot Top's vast array of products includes patriotic, custom and flag items. Our American flags include our exclusive brands the Patriarch® Polyester American flag and the Beacon® Nylon American flag. Our custom products include street banners, decals,signs and tents. Our graphics department has team of talented artists skilled in converting your artwork and logos into custom products and items with your images. Pair your mini Mexico flag with a Mexico Patch and a Mexico flag lapel pin. For more information about Mini Mexico flags or any Carrot Top item please fill out our contact us form and a representative will be in contact with you!