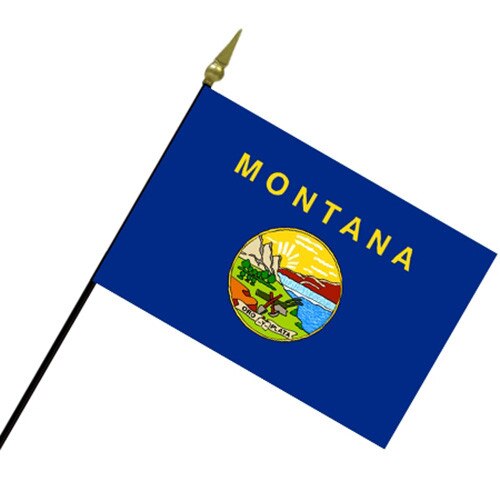 Details
HOW TO ORDER CORRECT QUANTITY FOR 4" X 6": QTY 1 = 12 FLAGS. OTHER SIZES SOLD INDIVIDUALLY.
Mini Montana flags are the perfect item for individuals and large groups to show their state pride and support for the beautiful state of Montana. These flags are economically priced to share and are great crowd pleasers for every age. Mini flags are available in two sizes. For more information about our Mini Montana flags see the description tab below.
Mini Montana flags are available in three sizes, 4x6", 8x12", and 12x18". The 4" x 6" & 8" x 12" flags are 70 denier nylon material mounted on black staffs. The 4x6" mini flag has a staff that measures 10" x 3/16" while the 8x12" mini flag has a staff size of 18" x ¼". The 12" x 18" polyester flags are mounted on a 30" x 5/16" wooden staff with a gold spear top. A 1 hole wood table base creates a sleek and distinguished mini display for desks, tables, windows and classrooms. Mini Montana flags are fun, popular inexpensive keepsakes that never go out of style.
Carrot Top goes out of its way to provide the highest quality products and superior service. Our products include a wide array of flags, custom products and other items or onetime events, ongoing presentations and permanent displays. Our American flags are available in several sizes and fabrics and include our exclusive brands- the Patriarch® Polyester American flag and the Beacon® Nylon American flag. Pair your mini Montana flag with mini American flags and an American flag and Montana State flag lapel pin and create a complete set. Our customer service representatives have over thirty years of experience are able to assist you with more information about these and other Carrot Top products.