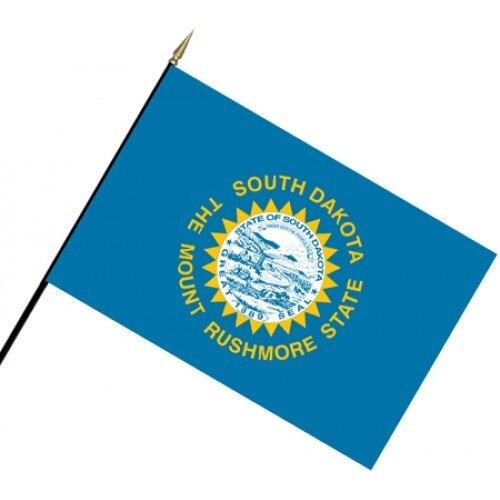 Mini South Dakota State Flags
Details
HOW TO ORDER CORRECT QUANTITY FOR 4" X 6": QTY 1 = 12 FLAGS. OTHER SIZES SOLD INDIVIDUALLY.
Mini South Dakota flags are a cool way to show and share your patriotic pride. These boldly colored bright flags make being patriotic fun. The flags are perfect for parades, rallies, patriotic holidays and sporting events. Mini flags are available in three sizes. For more information about our Mini South Carolina flag see the description tab below.
Mini South Dakota flags have a timeless appeal and make great gifts for every age. Miniature flags are are available in three sizes, 4x6", 8x12", and 12x18". The 4" x 6" & 8" x 12" flags are 70 denier nylon material mounted on black staffs. The 4x6" mini flag has a staff that measures 10" x 3/16". The 8x12" mini flag has a staff size of 18" x ¼" and may create a sleek mini display with our 1 hole wood table base. The 12" x 18" polyester flags are mounted on a 30" x 5/16" wooden staff with a gold spear top.
Carrot Top offers a broad range of products which include custom, flag and patriotic items. Our graphic artists are skilled in recrafting your logos and images on street banners and flags. Carrot Top also supplies flags of US Cities and NFL teams. Root for your favorite College with our NCAA College Sports flags. Carrot Top can assist you with permanent displays, ongoing presentations and one-time events. For further details, please fill out our contact us form and one of our Customer Care Representatives will be in touch with you.