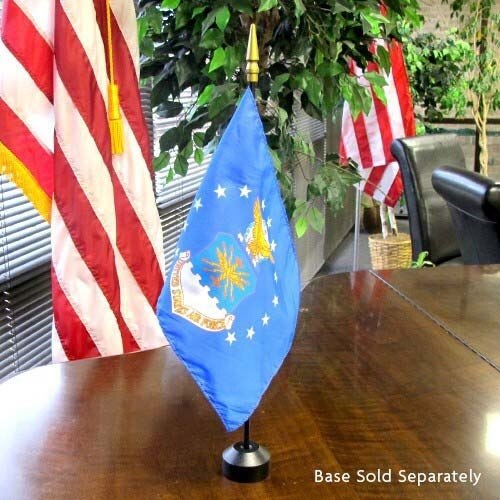 Details
HOW TO ORDER CORRECT QUANTITY FOR 4" X 6": QTY 1 = 12 FLAGS. OTHER SIZES SOLD INDIVIDUALLY.
Mini Air Force flags are a perfect way to show your support for the Unites States Air Force. Mini flags are often used as giveaways in rallies and special events, the mini Air Force flags could be a part of any Air Force special event to get the crowd involved in the event.
The handheld flags are attached to a black flagstaff with an ornamental spear on top. For more information read the description tab at the bottom of this page. To order your mini Air Force Flag, choose from two sizes below and select Add to Cart.
Our mini Air Force flags are the perfect accessory to spruce up your Air Force special event. Hand held flags are often used in rallies and special events and gives the crowd an opportunity to interact with each other and the main focus of the event. These flag can also be used at events to welcome troops home, as centerpiece décor for special ceremonies and military balls and parade giveaways.
The mini Air Force flags are made of durable polyester material, attached to a black plastic staff, and finished with a gold spear top. Available in two sizes, 4" x 6" flag mounted on a 10" staff and 8" x 12" flag mounted on a 19 3/8" staff. The flags are sewn along all sides to prevent frayed edges. The flag features the official ultramarine blue color of the Air Force flag and the official Air Force seal. The mini flags can be paired with our mini flag bases to make for a table-top display with an upright mini flag. For further details, please fill out our contact us form and one of our Customer Care Representatives will be in touch with you.
*Bases sold separately.
The mini Air Force flags are intended for use indoor but can be used outdoors in dry weather conditions.