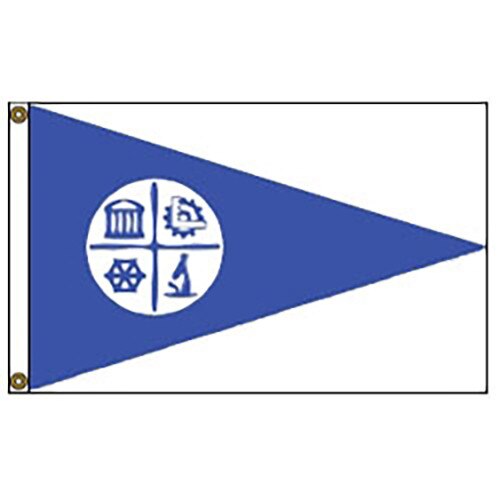 Details
The Minneapolis City flag visually replicates the ideals, industry and pursuits of the "City of Lakes". The Minneapolis City flag consists of a royal blue pennant on a white field. A white circle on the pennant is divided into four parts; each containing a significant symbol for Minneapolis. A Greek arch represents arts and education, a cogged wheel epitomizes labor and industry in the city, a pilot wheel symbolizes the lake and rivers in the region, and a microscope signifies research, skilled craftsmanship and progress. Combined, these symbols intend to demonstrate the beauty, harmony and brilliant future of Minneapolis. For more information about Minneapolis City flags see the description tab below.
Minneapolis is abundantly rich in water. Minneapolis' name is attributed to the city's first school teacher who combined the Dakota Sioux word for water, mini, with the Greek word for city, polis. For more information about Minneapolis City flags see the description tab below.
Our Minneapolis City Flags are designed with intricately crafted materials including strong durable nylon that is light enough to wave beautifully in the wind. , Minneapolis flags are fashioned with bright colors and impeccable artistry. Carrot-Top's Minneapolis flags dry quickly and resist fading. Minneapolis City flags are available in five sizes ranging from 2'x3' to 6'x10'. All of these flags feature a canvas header and two solid brass grommets for easy attachment to your flag pole.
Choose from our assortment of Majestic flagpoles to create a classic and distinguished look. Honor your heritage with Minnesota State flag and an American Flag. Carrot top also provides flags for NFL teams , NCAA college sports flags, and custom flags and banners to fit all of your needs. Carrot Top does it all.
.