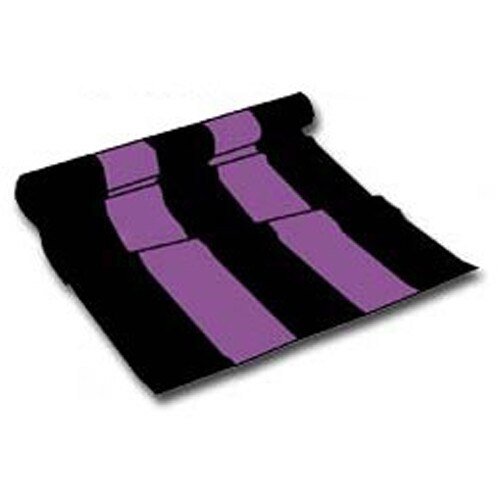 Mourning Bunting - Purple - 36" X 20" Yds
Details
Mourning bunting, or purple bunting, is often used on buildings and for memorial services to show respect for those who have passed. Black and purple bunting is associated with honoring the passing of a loved one or a member of an organization.
Our mourning bunting is made of durable nylon and sewn black and purple stripes. For more information about purple bunting see the description tab below.
Purple and black mourning bunting allows you to honor the life of those dear to your organization, town, and country with classic style and dignity. Our mourning bunting gracefully acknowledges fallen military personnel, firepersons, police officers and other public servants who have served our nation, states and towns with class and distinction. Carrot Top's purple and black bunting may be easily used to drape firehouses and trucks, police stations, town halls, churches, homes, offices and signs. Constructed with our extra durable nylon, Carrot Top's purple and black bunting measures 36"x 20 yards in standard form, however Carrot Top is willing to accommodate your needs and special requirements. In addition to black bunting we also offer mourning fans with purple and black stripes, patriotic flowers and garden flag sets, cemetery marking flags and specialized bronze grave markers for veterans, fallen soldiers and civil service members. Carrot Top also features a range of American flags in all sizes and fabrics including our exclusive brands, Patriarch® polyester American flags and our Beacon® nylon American flags. For more information about our mourning bunting or any other memorial products, please fill out our contact us form and one of our Customer Care Representatives will reach out to you!