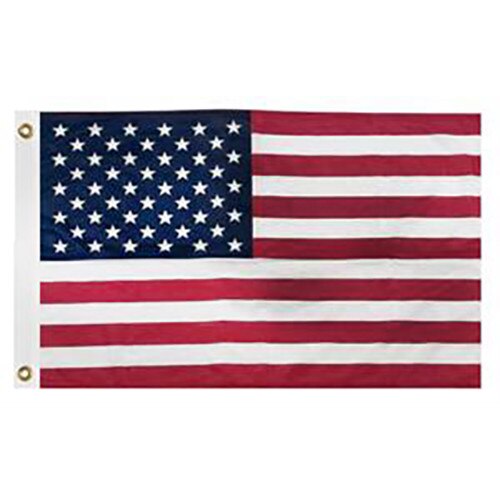 Details
The Nautical American flags are constructed using tough, marine-grade 100% Nyl-Glo nylon and designed for longevity when used outdoors.
Nyl-Glo fabric is a proven UV resistant fabric that retains color
For long term displays on boats and coastal areas
Water-resistant material
8"x12" - Boat flag size
Strong header and grommets for easy display
Made in USA
Why buy a Nautical American flag?
Sturdy construction for coastal displays
Our nautical American flags features printed stars and stripes and are finished with a canvas header and solid brass grommets that will remain rust free for its entire lifetime! The Nautical U.S. nylon 8"x12" flag is made of 100% Nyl-glo nylon fabric with highly durable 200 denier (industrial strength) nylon. Nylon marine flags are water resistant and quick drying making for a highly durable and long lasting nautical flag.
Light-weight, Versatile Design
These nylon American boat flags are also extremely light weight and wave proudly in the lightest winds. We also offer a variety of boat flags including the American yacht ensign, complete sets of nautical signal code flags, and individual nautical signal code flags.
Browse through our other outdoor and indoor American flags for a flag for your home or office.