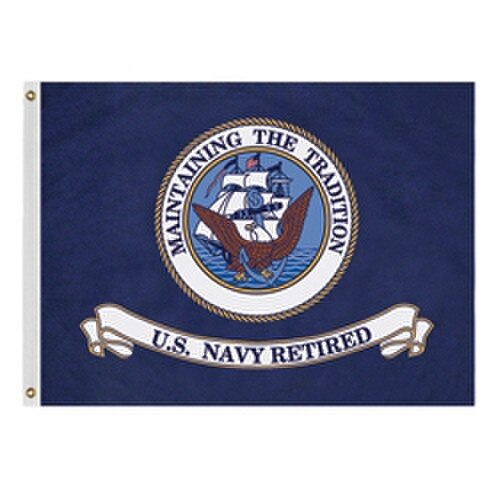 3' X 4' Navy Retired Flag
Details
3' x 4' Navy Retired flags are flown to celebrate or represent soldiers who have served 20 or more years in the United States Navy or been permanently disabled in the line of duty. Our Navy retired flags are designed for use in outdoor settings. These flags are made of solid nylon and come fitted with a header and brass grommets for attachment. Proudly Made in the U.S.A.
For more information about the 3' x 4' Navy Retired flags, see the description tab below the product selection options.
The Navy Retired 3' x 4' flag features the official Navy seal. The Official United States Navy seal features a circular background with a blue sky. In the center of the seal is a square ship. In front of the ship is a large anchor placed at an angle. In the foreground is a bald eagle rising with one foot on the anchor. The circular center is surrounded by a white border in which the words "MAINTAINING THE TRADITION" are printed. Below the seal is a white ribbon that reads "U.S. NAVY RETIRED". The flag also has a blue background similar to that of the official Navy flag.
Carrot-Top thanks all U.S military personnel for their invaluable service. Show your support for the U.S armed forces with our military flags, yellow ribbon products, Veterans products and POW MIA flags. Also see our American flags, the Beacon® nylon American flag and Patriarch® polyester American flag are our exclusive flags and are of the highest quality. For more information about our products, please fill out our contact us form, and one of our Flag Pros will be in touch with you!