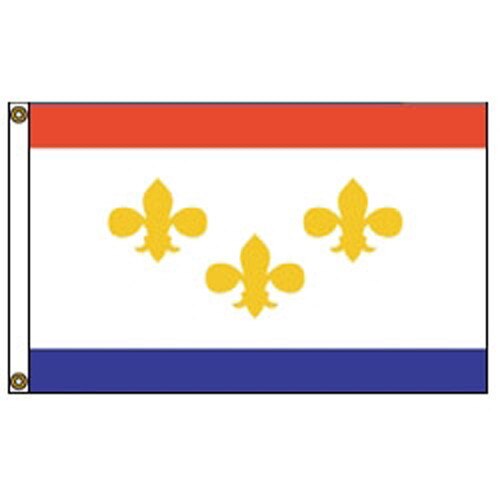 Details
The New Orleans City flag reflects the character, ideals and philosophies of the city known as "the Big Easy". The New Orleans flag consists of a large white field which contains three gold fleurs-de-lis-- a design which denotes the area's deeply rooted French heritage. Arranged in a triangle, the fleur-de-lis represents New Orleans under the principles of government, liberty and fraternity. The symbols have been snatched from the Bourbon throne (blue) and now exist in the pure, white field of equality. A red stripe suggests fraternity while the blue indicates liberty. The combination of these elements and colors epitomizes democracy. For more information about New Orleans City flags see the description tab below.
New Orleans is famous for its vibrant music and delicious cuisine. It is a melting pot of French, African and American cultures. Although the culture of New Orleans is associated with the French, the architecture of the city is Spanish. New Orleans is also home to one of the largest domed stadiums in the world, the Superdome.
Our New Orleans City Flags are the best all-around flags available. New Orleans flags are constructed with strong, durable nylon that is light enough to blow effortlessly in the wind. Carrot-Top's New Orleans flags dry quickly and are designed for long term use. New Orleans City flags are available in five sizes ranging from 2'x3' to 6'x10'. All Carrot Top New Orleans flags feature a canvas header and two solid brass grommets for easy attachment to your flag pole.
Match your New Orleans flag with a Louisiana State flag and an American flag. Consider honoring the New Orleans Saints with one of our custom NFL team flags or a custom flag with the school or team of your choice. Carrot Top does it all for you.