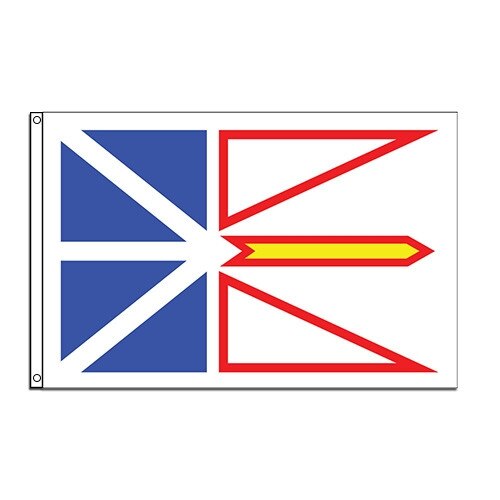 Details
Our Newfoundland flags are tailored to perfection. The Province flags are crafted with superior Solargaurd® nylon and broadly symbolize the geography, climate and philosophy of the people of Newfoundland.
Newfoundland Province flags:
Are available in two sizes:
3'x6' for official display with Canada flag
3'x5' for display at homes, schools and other locations
Feature premium, polished 200 Denier nylon (Nyl-Glo®)
Are attractive, durable, and lightweight
Dry in moments which increases longevity
Express heritage and show pride
Are designed for long-term, outdoor use
The Newfoundland and Labrador Flag is composed of a white background with t blue, red and yellow colors. Blue signifies the seas and is designed to simulate the Union Jack. White symbolizes the massive amount of snow in the province while red and yellow denote the struggle and effort of the citizens of Newfoundland for success and the confidence of the Canadian people. The triangles in red symbolize the mainland and the islands of the province. The golden arrow points the province and nation's bright future. The Newfoundland flag was adopted and first hoisted in 1980.
Our Newfoundland flags are tailored to meet Carrot-Top's superior standards. These provincial flags
are fitted with strong canvas headers and finished with solid brass grommets. Both sizes of this flag make for dynamic displays in any location. The 3'x 6' flag may be flown with the Canadian flag while the 3' x 5' Newfoundland flags are fashioned to meet industry display standards. These flags are best displayed and flown in areas with light to moderate winds.
Carrot-Top gladly supplies flags for all 13 of Canada's provinces and territories. We also offer a variety of Canada's Maple Leaf flag in several sizes and styles. Shop our entire selection of International flags for banners of nations from almost every corner of the planet. Our assortment of American flags is one of the finest collections of flags found anywhere. For further details, please fill out our contact us form and one of our Customer Care Representatives will be in touch with you.