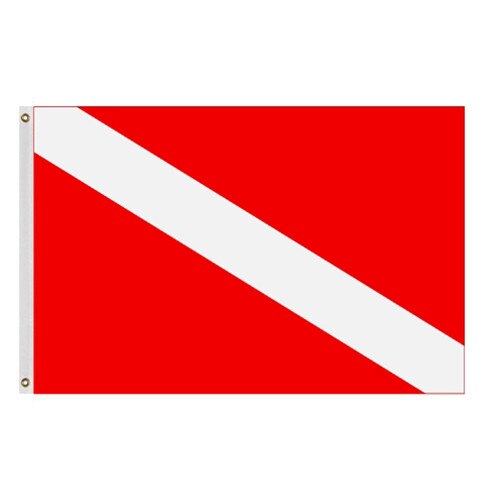 Details
Created in 1957 by divers, the Skin Diver flag is required by law when you have a diver in open waters where there may be other boats or vessels nearby. With the red background and white stripe, all boats in the vicinity will be sure to see your warning and proceed with caution. Made of nylon and finished with a canvas heading and brass grommets, our Skin Diver flags will fly in the slightest of breezes and make visibility a priority. For more information, please see the Description tab below.
Carrot-Top Industries currently offers Nylon Skin Diver flags in the sizes of 12x18" and 20x30". Both sizes are finished with a canvas heading and grommets. With the white stripe sewn onto the red background, durability is guaranteed. The nylon we use for the Skin Diver flags is a heavyweight Invista Solarmax nylon sure to withstand most weather conditions that you may encounter while at sea. The use of this flag is required by many states across the United States. The regulation of the Skin Diver flag requires any vessel with a diver to display the flag as well as to stay within a mandated distance when they are near the surface. In some states, there is also a larger area in which no boats are allowed to pass when the Skin Diver flag is displayed. Other states also forbid the display of this flag when there is no diver is present in the water.
We also have several different nautical flags and signal flags. We are known for our high quality American, State, International flags. Complete the flag display with our flagpoles and flag pole accessories. For more information, please fill out our contact us form and one of our Customer Care Representatives will be in touch with you!