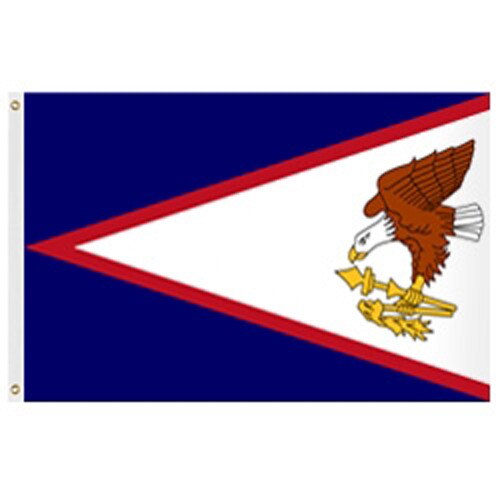 Outdoor American Samoa Flags
Details
Full Product Details of our Outdoor American Samoa Flag:
Samoans looking for a durable and cost-effective territory flag have many options when shopping at Carrot-Top Industries. Now available in three excellent fabrics, our flags feature rust-resistance brass grommets, a strong canvas header, and quality construction suited for outdoor use. Order now to learn why top businesses and government agencies buy outdoor flags from Carrot-Top!


Singled-sided printed, with the design showing through the back

Six-month guarantee with the purchase of Beacon® nylon or Patriarch® polyester flag fabrics

Two rust-resistance brass grommets for easy hoisting with halyard rope

Huge size selection to match the height of your flagpole

Made in the U.S.A.
What Flag Fabric Should I Choose for My Flag?
When it comes to choosing the right flag fabric for your outdoor American Samoa flags, we've got three excellent options to match your needs. Please fill out our contact us form if you need additional assistance choosing a flag!

Outdoor Beacon® Nylon American Samoa Flags
Our outdoor Beacon® nylon flags are constructed with lightweight SolarGuard® 200 denier nylon, making them fly beautifully even in gentle breezes. They dry quickly and are resistant to moisture and mildew. We recommend using nylon flags in areas with mild to moderate winds or for wall-mounted flagpoles. Nylon flags are for sale in 3'x5' and 4'x6'.


Outdoor Patriarch® Polyester American Samoa Flag
Our outdoor Patriarch® polyester flags are crafted from two-ply polyester with a cotton-like texture. These flags are tough and resist tearing and fraying even in extreme climates, making them ideal for coastal areas with strong winds. As our more heavy-duty options, polyester flags can handle extended outdoor use regardless of wind conditions. Order now in three sizes: 3'x5', 4'x6', and 5'x8'.

Patriarch® Tough-Ply Poly American Samoa Flag
Live in an area with heavy rain and high winds? Our Patriarch® Tough-Ply Poly flags are the perfect choice. Made from 100% polyester spun into an innovative Open Weave, these flags fly more easily, dry faster, and even fly when wet. The intricate details of the American Samoa bald eagle are rendered in spectacular high resolution, making a striking display. Choose from three sizes to find the one that suits your flagpole best. Now available in 3'x5', 4'x6', and 5'x8'.
Want to Pair Your Outdoor American Samoa Flag with Other Flags?
If you're looking to display multiple flags, Carrot-Top has you covered! Our outdoor flags are designed to resist fading and fraying, ensuring they stay in top shape. Our Beacon® Nylon American Flags are the perfect all-around choice, flying beautifully in various wind conditions and holding their color even under bright sunlight. For areas with high winds, consider our Patriarch® polyester American flags, built to withstand harsh weather.


Not sure which US flag fabric to choose? Keep a consistent look by using the same fabric for both your American and American Samoa flags. When displaying them on the same flagpole, follow the US flag code by ensuring the US flag is one size larger and flies above the territory flag.


Looking to add a third flag to your display? Carrot-Top sells flags for the U.S. Army, Navy, Marine Corps, Air Force, Coast Guard, and POW/MIA flags. Show your respect for the armed forces with our high-quality military flags.


Looking to creatively advertise your business? Our custom flags are a fantastic option. Reach out to a Flag Pro to start your custom order today!
What Other American Samoa Flag Products Can I Buy?
We have outdoor and indoor flag options for the flag of American Samoa. Indoor flags have a pole sleeve and an elegant gold fringe, providing stunning decor for formal events. Shop our American Samoa flag category for full list of products.
History of the American Samoa Flag
The American Samoan flag's history dates back to April 17, 1900, when the United States officially took control of the island. In the 20th century, the US Navy governed American Samoa, using a Union Jack (the United Kingdom's flag) as the territory's flag. However, American Samoans wanted their own flag to represent their identity.


In 1960, the territory signed the American Samoan Flag Act, instituting its current flag. The flag features a blue field with a white triangle on the hoist side. A bald eagle sits inside the Triangle clutching a war club and a fly-whisk or Fue. The eagle represents the U.S., and the war club and fly-whisk symbolize the authority of the Samoan chiefs.


The red, white, and blue colors show the connection between American Samoa and the United States. The American Samoan flag represents the pride, history, and unity Samoans across the islands.
Hundreds of U.S. State and Country Flags!
Carrot-Top offers an extensive collection of U.S. state and country flags. Whether you need full-sized nylon flags or mini country stick flags, we have it all! With hundreds of options to choose from, you're sure to find the flag that best represents your state or country.


Our Flag Pros are here to assist you with any questions or help finding the right products. Complete our contact us form, and we'll help you with checkout for a smooth shopping experience. Shop now to receive Carrot-Top's top-quality flags!