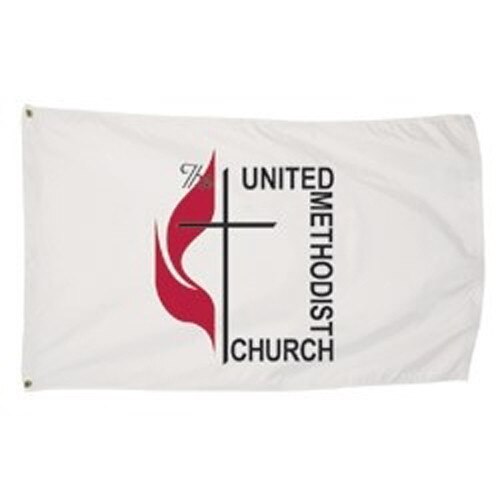 Outdoor United Methodist Flags
Details
Our Outdoor United Methodist flags create beautiful displays in our home, church, building or school. These flags crafted with superior nylon showcase an insignia born following the union of the two denominations (The Methodist Church and the Evangelical United Brethren Church). Outdoor United Methodist Flags showcase a white background with a vibrant red-tongued flame and bold black letters. These flags are available in two sizes. Get your Outdoor United Methodist flags by entering the quantity you desire and clicking "Add to Cart". For more information about our Outdoor United Methodist flag see the description tab below.
Outdoor United Methodist Flags are fashioned with superior 200 denier nylon and are finished with a reinforced header and two brass grommets. Carrot-Top's flags feature fray resistant stitching and seams on the fly ends. Outdoor United Methodist flags are digitally printed and display the "cross and flame" emblem with the words "United Methodist Church". These flags measure 3'x5' and 4'x6'. Shop all of our United Methodists Flags which include Indoor United Methodist flags and United Methodist Flag Sets. For a complete list of products, visit our main United Methodist Flags category.
Carrot-Top' products include a vast array of items and services designed to cater to our customer's needs. Our flag collection includes religious flags, international flags, American flags, and more. Our American flags include our Patriarch® Polyester American flag and our Beacon® Nylon American flag. Be sure to browse through our custom products section for flags, banners, and tents that may be tailored to promote your church, organization, or business' message or logo.