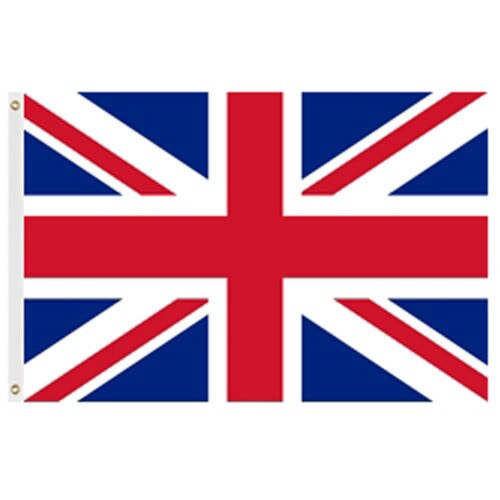 Outdoor United Kingdom Flag
Details
Outdoor United Kingdom flags are crafted with super strong woven nylon that dries quickly and waves beautifully in the slightest breeze. Our outdoor flags are the most versatile all- weather flags obtainable. These flags are available in several sizes so that you may find the best flag for your flagpole's height. For more information about our Outdoor United Kingdom flags see the description tab below.
Outdoor United Kingdom flags create classic and dynamic displays of the United Kingdom flag at almost any location: home, office, school, or church. These beautiful flags are finished with strong canvas header along the left side with two solid brass grommets for easy attachment to your pole. Sizes available include: 12" x18", 2'x3', 3'x5', 4'x6' and 5'x8'.
Carrot Top has a long tradition of supplying the highest quality products and superior customer service. Our graphic artists are skilled in recreating your logos, artwork and images onto custom street banners, signs, decals and tents. Our American flags are some of the finest flags available and include our exclusive fabrics the Patriarch® Polyester American flag and the Beacon® Nylon American flag. Carrot Top also provides an Isle of Mann flag and a United Kingdom flag lapel pin. For further details, please fill out our contact us form and one of our Customer Care Representatives will be in touch with you.