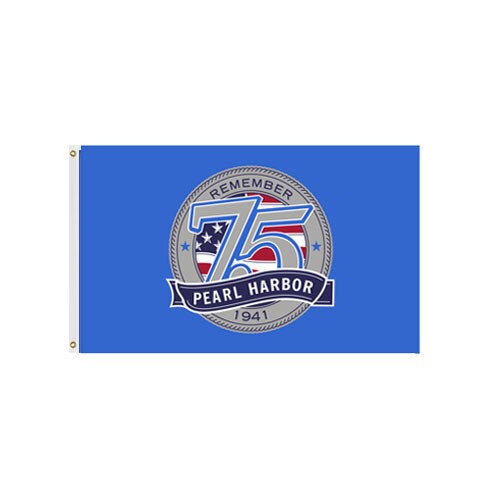 Pearl Harbor Anniversary Flag
Details
The officially licensed Pearl Harbor 75th Anniversary Flags are the best way to honor and celebrate the sacrifice and dedication of our military and civilians during the infamous attack on Pearl Harbor. These beautifully crafted nylon flags are available for a limited time only.
May be flown outdoors on a variety of flagpoles in light to moderate wind locations
Hang Indoors: mount on a wall, display in a window, hang from the ceiling or strong beam
3' x 5' flag crafted with premium 200 Denier Nylon
Digitally printed, full color, elegant and distinguished design
Single reverse image with a canvas header and brass grommets
Fly end of flag features four rows of stitching to resist fraying

Made in the U. S. A.
Why buy a Pearl Harbor 75th Anniversary Flag?
Crafted and Ideal for areas with light to moderate winds
Our Pearl Harbor 75th Anniversary flag is constructed with the finest 200-Denier nylon and may be flown on a multiple types of flagpoles including outriggers, super poles, as well as residential and commercial flagpoles. Carrot-Top's nylon flags feature reinforced stitching on the hoist (header side), top and bottom of the flag. The fly end of the flag has four rows of stitching which increases the flag's resistance to fraying as well prolongs the life and longevity of the flag. Pearl Harbor Commemorative flags are finished with a strong canvas header and two solid brass grommets.
Pearl Harbor Flags available for a limited time only.
Pearl Harbor 75th Anniversary flags commemorate the infamous attack by Japan's navy on December 7, 1941. The Attack on Pearl Harbor, also as the Battle of Pearl Harbor, began as 353 Imperial Japanese fighter planes, bombers and torpedo plans attacked the base. The attack shocked the American people which led to the U.S. entering into World War II. Over 2388 military personnel were killed including 48 civilians. 12 ships were sunk or beached, over 164 aircraft were destroyed and 159 were damaged. Our Pearl Harbor flag memorializes the 75th Anniversary of the attack and is available for a limited time only. Carrot–Top offers a full range of patriotic products including US Lapel Pins, Proud Veteran Lapel Pins, US and Navel lapel pins and Navy lapel pins. For more information about any of Carrot-Top's product and services please fill out our contact us form and one of our Customer Care Representatives will be happy to get in touch with you!