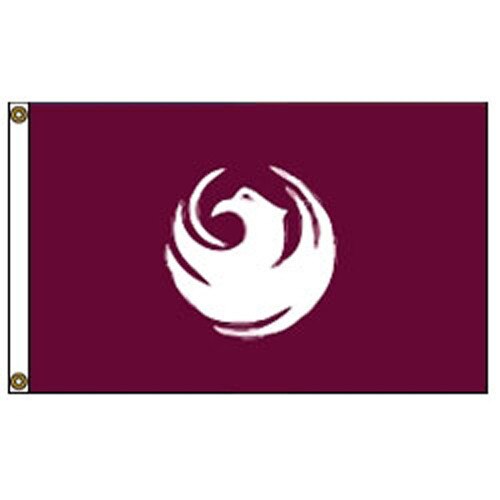 Details
The Phoenix flag identifies the area known as "the valley of the sun" with simple elegance and classic beauty. The Phoenix flag consists of white phoenix with upturned wings on a purple background. This image of the phoenix is also the Seal of the City of Phoenix. Phoenix began as an agricultural community in 1867 and was incorporated as a city in 1881. Early modern founders, Jack Swelling and Phillip Darrell Duppa suggested Phoenix as the present name because it described a city born from the ruins of a prior civilization (Hohokam). Phoenix is the capital and largest city in the state of Arizona. For more information about Phoenix City flags see the description tab below.
Our Phoenix City Flags are the best all-around flags available. Constructed with intricately crafted materials, Phoenix flags are fashioned with durable yet lightweight nylon, bright colors and impeccable lock stitching.
Our Phoenix flags wave beautifully in the slightest breeze. These flags are crafted with the highest quality nylon that is durable and dries quickly. Phoenix flags are available in five sizes ranging from 2'x3' to 6'x10'. All Carrot Top flags feature a canvas header and two solid brass grommets for easy attachment to your flag pole. Choose from our assortment of flagpoles to create a classic and distinguished look or pair your Phoenix city flag with an American Flag or an Arizona State flag.