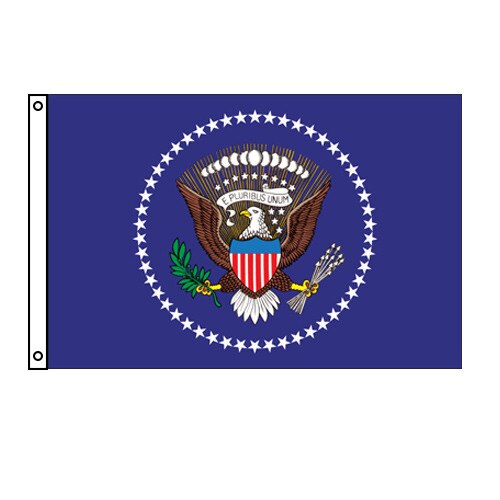 Polyester U.S. Presidents Flag - 3' X 5'
Details
The US Presidents Flag should be on display whenever the President of the United States is present.


Measures 3'x5' and fashioned with 100% endura Polyester
Single-reverse, printed in full color with superb color retention
Two rows of stitching on all four sides
Finished with white heading and grommets
Tailored for long term, outdoor use
Proudly made in the U.S.A.


Our 3' x 5' US Presidents Flag is the official banner displayed whenever the U.S. President is in your city. This polyester flag is designed for outdoor use and works great with 6' outrigger flagpoles or flagpoles 25' or taller when flying multiple flags. These flags are recommended for use in areas with light to moderate wind locations.


Presidents' Flags feature an old glory blue background and display the Presidential Coat of Arms with 50 stars circling it. Its polyester material is light weight and allows the flag to fly effortlessly in the slightest breeze. The current design was written in to law in 1945 by President Truman when Executive Order 9646 was issued. The flag's first public appearance was at the commissioning of the USS Franklin D Roosevelt. The flag of the President of America is a great item for flag enthusiasts and collectors. The only changes that happened to the design was the addition of two stars to represent Alaska and Hawaii.


Carrot-Top fashions a wide variety of products ranging from flags to custom products to military and memorial items. Our flag collection is the finest in the industry and includes our exclusive brands the Beacon® Nylon American flag and the Patriarch® Polyester American flags. We also supply US State and City flags, International flags, and more. Our custom items include flags, and banners that may be customized with your business or organization's logo, image or photo. For greater details about any of our products or the services we provide please fill out our contact us form today!