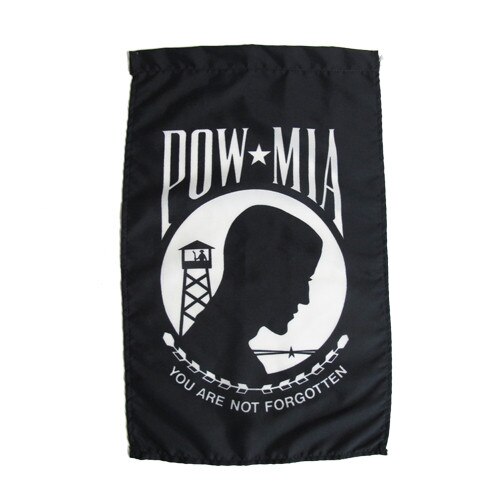 Details
Our POW/MIA Garden Flag is a subtle yet honored way to display your support, honor and recognition of our soldiers who were captured as Prisoners of War and/or Missing in Action. Made of our lightweight yet durable nylon material, our garden flag will fly easily in the slightest breeze while still being visible on both sides. Made in America. For more information on our POW/MIA Garden Flags, please see our description tab below.
Our POW/MIA Garden Flag is available in a 12x18" size and will coordinate effortlessly with our Garden Flag Pole for displaying in your garden, patio area or front yard. Completed with sewn edges and a 1.5" pole hem, our digitally printed POW/MIA garden flag can be easily placed on your Garden Flag Pole. Military garden flags are a great addition to your current display or can allow for optimal attention, if displayed by itself. Also used at grave sites for remembrance and recognition, our lightweight garden flags will offer an understated yet bold reminder of our military and those who are a part of it. Including the original black background with the silhouette design, the POW/MIA garden flag will be easily recognized even with its smaller size.
Carrot-Top Industries also offers many garden flags designs including but not limited to the United States, Honor, Military and Civil Service. Custom Garden Flags can also be created with your school, city or company design. For further details, please fill out our contact us form and one of our Customer Care Representatives will be in touch with you.