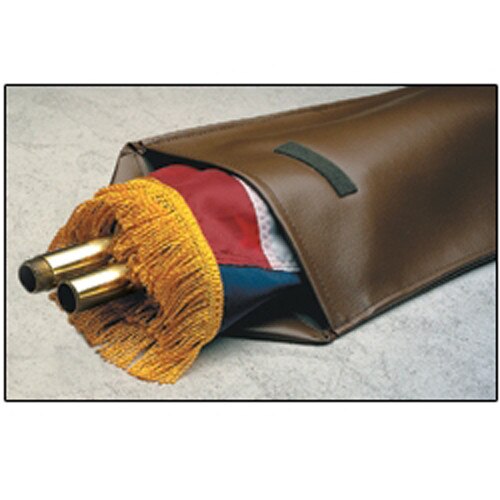 Protective Storage Cover - Flag Set Cover
Details
The protective storage cover is perfect for keeping your parade sets safe when in storage. These flag set covers are made of heavy duty leather-like vinyl which is completely water proof and great at keeping dust away from your parade set.
The flag set covers are intended to store an entire 8' or 9' parade pole and 3x5' or 4x6'flag (will not fit the ornament). The parade set covers are great for storing seasonal indoor flags or parade flag sets when they're being stored in between parades or special, ceremonial events. Read the description tab at the bottom of the page for more information about the Parade Set covers
The protective storage covers are an essential accessory for use with seasonal indoor flag sets or with parade flags. The flag set covers measure 8' in length and are perfect for storing flagpoles and flags together. The covers also feature an interior pocket to hold your flagpole in place and keep it from hitting other flagpole components while in storage or being transported. The interior pocket reduces chances for scuffing to occur lengthening your flagpole's life. The cover also features a Velcro cover to help close the cover and keep all flagpole parts inside.
To pack away your flag display simply roll the flag up around the flagpole when they're dry and slide both pieces right into the interior pocket and shut the Velcro flap.