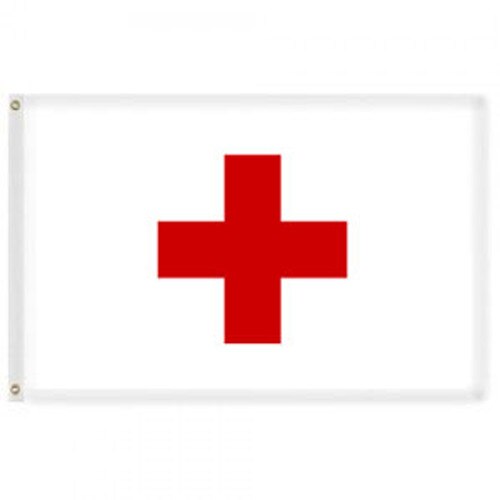 Details
The Red Cross flag is one of the most iconic and recognized symbols for medical help and general aid in the world today. Our Red Cross flags are designed for outdoor use in all weather conditions. The flags are made from strong nylon fabric and measure 3'x5', the perfect size for any display.
All of our Red Cross flags are proudly made in U.S.A. For further details about these flags see the description tab below the product selection options.
Red Cross flags consist of a red cross with equal sides centered on a pure white background. This symbol was designated at the Geneva Convention in 1864 as a protection symbol. The Red Cross flags are today used to mark vehicles and locations involved in humanitarian work. Medical buildings and personnel in warzones also display this symbol as a sign of protection. In times of war and in warzones the Red Cross is displayed on large flags like our Red Cross flag to assure maximum visibility denoting the protected status of the location. The symbol and concurrently the flag was designed by Dr. Louis Appia a Swiss surgeon.
Our Red Cross flags are crafted using 200 denier nylon a strong and versatile flag fabric. These flags are ideal for use in wet weather and areas with little to no wind. The flag is light and water resistant allowing for it to dry quickly when wet. The flag is fitted with a solid canvas header and brass grommets for use with flag hooks and outdoor flagpoles.
See our EMS flags, star of life flags and the full collection of Civil service flags. In addition to civil service flags we also offer military flags, veterans products and a vast collection of other military and memorial products. Pair a civil service flag or a military flag with our high quality American flags. For more about our products please fill out our contact us form and one of our Customer Care Representatives will be in touch with you!