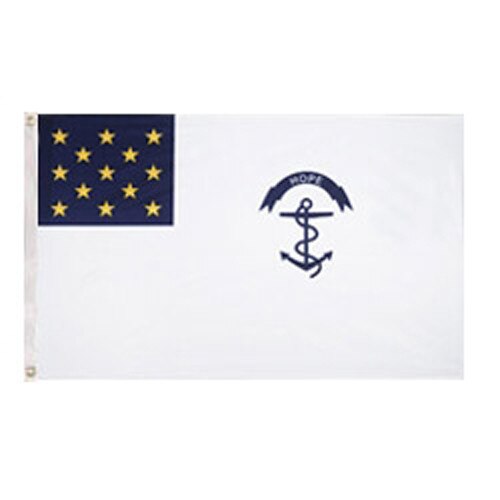 Rhode Island Regiment Flag
Details
Our Rhode Island Regiment Flags are fashioned with the finest materials which reflect the important significance of this flag to Rhode Island and American History.
Rhode Island Regimental flag are constructed with strong, superior nylon that dries quickly
This Historical flag measures 3' x 5' and fits most flagpoles
Carrot-Top's nylon flags are built for long term outdoor use in moderate climates
These flags are fitted with a strong canvas header and solid brass grommets
This Regimental flag was flown by those who fought in the American Revolution
Rhode Island Regiment flags were and continue to be an important flag in American history. These historical flags contain the White flag of Rhode Island with an anchor, a banner and a canton filled with stars. The anchor, which is prominently displayed, symbolizes hope. The flag showcases 13 stars for each of the Colonies. This flag is one of the earliest symbols of national unity. The 1st Rhode Island Regiment was one of few units that consisted of freed African Americans during the American Revolution.
Our Rhode Island Regiment flags create dynamic displays and wave beautifully in the slightest breeze. Carrot-Top's nylon flags offer easy attachment to and removal from any flagpole. Be sure to browse our vast collection of Historic U.S. flags and Historic World Flags. Our flags include sports flags, novelty flags, US State and City flags and American flags. The Beacon® Nylon American flag and the Patriarch Polyester flag are exclusive Carrot-Top fabrics noted for their longevity and excellent craftsmanship. Shop our Historic lapel pins and Military lapel pins for great keepsakes that are affordably priced to share with others. For greater details about any Carrot-Top product or item please fill out our contact us form and one of our Customer Care Professionals will be be in touch with you!