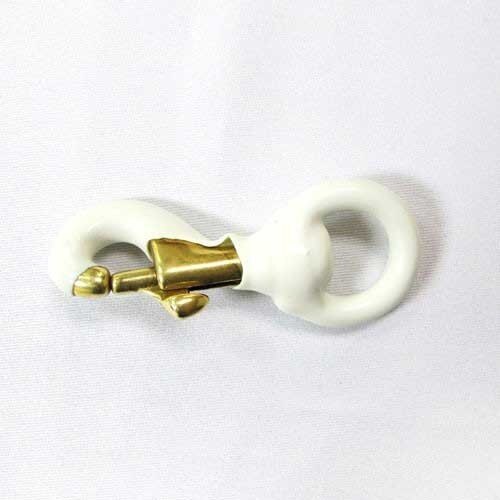 Snaphook - Rubber Coated Brass 3" With Swivel
Details
Our 3" Rubber Coated Brass Snaphooks with Swivel are made of solid brass and feature a PVC plastic coating which is ideal for minimizing the "clanking" sound that snaphooks can make against your pole. The PVC plastic coating also helps to reduce damage to your pole that may occur when the flag is flying. For more information on our 3" Rubber Coated Brass Snaphook with Swivel, please see our description tab below.
Our Rubber Coated Brass Snaphooks with Swivel are a nice addition to your flag display, should you be looking for something that blends with the natural surroundings as well as helps to prevent unnecessary noise and damage to your flagpole. Made of the same solid brass as our large and small standard snaphooks, this style features a PVC plastic coating to assist with lessening any damage to your flagpole caused by the contact of the uncoated snaphooks. With a complete length of 3.25", this snaphook will function the same as our regular snaphooks. Made for use with any flag size from 3x5' to 6x10', these snaphooks will work perfectly with flags displayed at your home or business location. Carrot-Top Industries also offers other replacement components and accessories that may be needed for your flagpole, whether it be a commercial-grade or architectural-grade flagpole from Carrot-Top or from another source.
Carrot-Top Industries also prides itself in providing American-made flags. Our Beacon® Nylon and Patriarch® Polyester United States flag, State flags and any custom design you may be interested in creating for your business or organization are made in the U.S.A.
For any questions about the size of the accessory, flag or flagpole that you may need, please fill out our contact us form, and one of our Flag Pros will reach out to you!