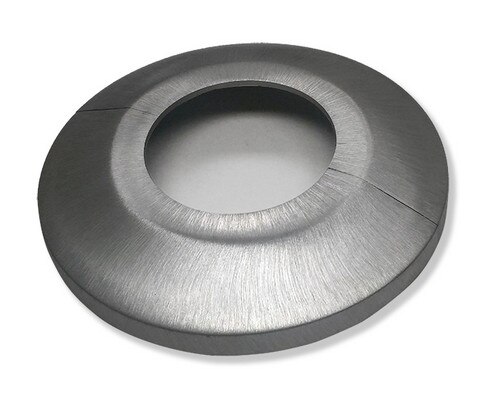 Split Flash Collar - Cast Aluminum
Details
The Split Flash Collar, made of cast aluminum, is ideal for flagpole owners who are looking for the painless way to replace their flash collar. This style features a split that allow the collar to detach from itself into two pieces. Available for flagpoles with diameters ranging from 3" up to 7", these split flash collars are easy to install without compromising quality or durability. To order a split flash collar, please select your appropriate flagpole diameter size and quantity, then click the "Add to Cart" button. For more information, please see the description tab below.
Our Split flash collars are made from solid cast aluminum and are designed with a split in the circle. This feature allows for replacement of the flash collar without the time and expense of hiring a company for replacement or a bucket truck being needed. This style of flash collar measures 14" in diameter and can fit flagpoles with a butt or base diameter of 3", 4" 5", 5.5", 6" or 7". The satin finish will add that finishing piece to your flagpole display. If you are looking for another finish or color, please contact us and we will be happy to help you find the component you are looking for.
If the split style flash collar isn't the design you are looking for, Carrot-Top Industries also has the more traditional, one-piece flash collar styles available. Please keep in mind that while the one-piece styles are more cost-effective, they will require a more complex installation process. For any additional outdoor flagpole components, please browse our accessories page. As with any grand flagpole display, an American-made United States flag pairs beautifully with these accessories. Browse our Outdoor American flags, including the Beacon® Nylon and Patriarch® Polyester American flags, to find the material and size to fit your needs. For more about our products or for questions or concerns, please fill out our contact us form and one of our Customer Care Representatives will be in touch with you!