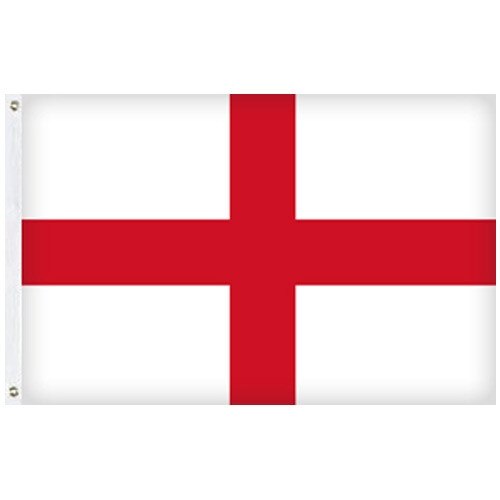 Details
St. George's Cross Flag features a red cross on a white field. These historic and religious flags are crafted with the finest materials and feature:
100% woven nylon that dries quickly
A strong canvas header and solid brass gross
Superior craftsmanship built for extended outdoor use
Three convenient sizes, including 2'x3', 3'x5' and 5'x8'
St. George's Cross Flags dry in minutes and wave beautifully in the slightest breeze. These flags were originally the emblem of the Republic of Genoa and were used consistently by the crusaders. The banner was later adopted by England. Saint George was known as the "warrior saint" and was often portrayed as a crusader starting as early as the late Middle Ages.
Our St. George's Cross Flags are built to last and create dynamic displays indoors and outdoors. These flags will look great at your home, office, or school and make great addition to church and religious displays. Carrot-Top proudly supplies flags of all varieties, shapes, fabrics and sizes. Our American flags include the exclusive Beacon® Nylon American flag and the Patriarch® Polyester Flag. Carrot-Top also provides Historic International Flags , Historic U.S. flags , and Military lapel pins. Shop our custom products section for custom flags and other items that may be personalized or tailored to meet your specific display or advertising needs. For more about our products or for questions or concerns, please fill out our contact us form and one of our Customer Care Representatives will be in touch with you!