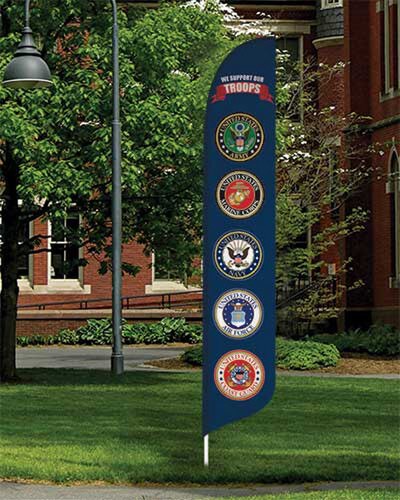 Support Our Troops Blade Flag - Blue
Details
This 11' x 2' Support Our Troops blade flag is a great way to display your appreciation for our United States Military Soldiers and the sacrifices they make on our behalf each and every day!
The Support Our Troops Blue Blade Flag is a modern way to display your support of and appreciation for those who are on the front lines each day to secure the freedom we are so accustomed to. Measuring 2x11', this blade flag is made of a strong yet easy-flying nylon material to provide and long-lasting display. Perfect for use with our Medium Blade Pole Sets which include the rotating ground spike or you have the option of purchasing the medium blade pole and cross base with water bag separately for an indoor or sidewalk display. This product is made to order, please allow 2-3 weeks for production.
Along with the wide array of Support Our Troops items offered by Carrot-Top Industries, also available is a large selection of United States Military Branch products that expand across our 5 major branches. If you are looking for flags that complement our Support Our Troops flags, browse our Solid Color Advertising Flags and Advertising Message Flags that allow you to convey information. The advertising style of flag is offered several modern shapes and will gain the attention of others while being pleasing to the eye. Our exclusive outdoor United States flag styles are available in our Beacon® Nylon and Patriarch® Polyester materials and are made for everyday use with an always honored design that will provide that extra element of patriotism to your flag display. For more information, please fill out our contact us form and one of our Customer Care Representatives will reach out to you!