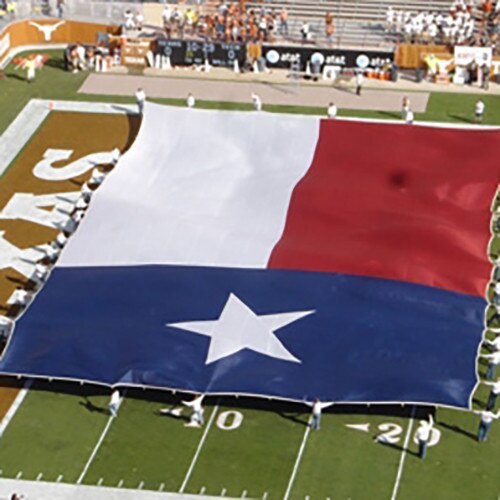 Details
The Texas field flags are made of durable nylon and designed for long term use. These flags are a great way to kick of a game of football or any sporting event in a large field or sporting arena.
The Texas field flags feature a header that goes around the entire flag and are fitted with handles for the flag bearers to carry the flag with. These field flags are also excellent for use in parades and gymnasiums Show off your state pride with a Texas field flag. For more information see the description tab below the product selection options.
Texas field flags are a great way to start off or end any sporting event or celebration. These field flags are one sided nylon flags which are designed to be carried by several flag bearers. The flag is to be carried facing the sky and stretched out.
The Texas field flags feature a reinforced header around all four sides of the flag to prevent fraying over extended periods. The flags are available in two different sizes, 12'x18' and 20'x30'. The 12'x18' flags are fitted with 12 handles and the 20'x30' flags are fitted with 20 handles. The number of handles is an indicator of the recommended number of carriers for each flag.
Also see our regular Texas state flags, our range of Texas flags feature Beacon® nylon and Patriarch® polyester Texas flags. Beacon® And Patriarch® flags are exclusive Carrot-Top products and are a result of our 3 decades of experience in the flag industry. Also see our City flags for a flag representative of your home place. Our range of products also includes several different types of flag poles and many other custom products. For more about our products or for questions or concerns, please fill out our contact us form and one of our Customer Care Representatives will be in touch with you!