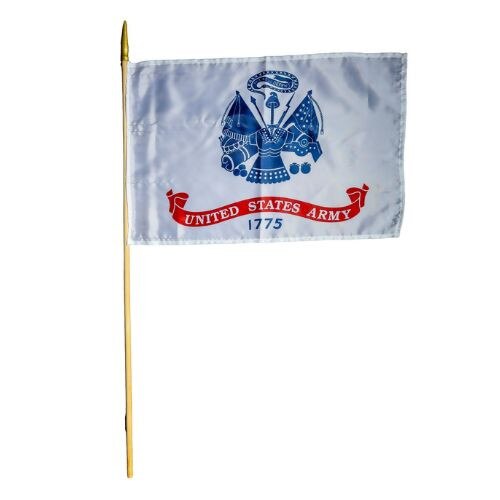 Details
The 12" x 18" Army Cemetery flag are commonly used with our unique deluxe bronze grave markers. These mini Army flags are a great way to honor the memory and sacrifice of a fallen hero. The Army cemetery flags are attached to wooden dowels and are finished with a gold spear top.
The wooden dowels can be used to pair the cemetery flag with our grave markers or for the flag to be used as an individual display in-ground. For more information about the Army Cemetery flags refer the description tab below.
The 12" x 18" Army cemetery flag measures 12"x18" and is made of a durable polyester material. These mini Army flags are made to be used in all-weather conditions for long term displays. The cemetery flags feature seams on all sides to prevent the flag from fraying over time. The flags are attached to the wooden dowel using staples. The dowel measures 30" in height and 3/8" in diameter and is made of solid wood.
Carrot-top offers deluxe bronze grave markers that are designed to our cemetery marking flags. The bronze grave markers are available in several different styles to match different departments of the armed forces and civil service. To honor a loved one who served in the Army an Army specific grave marker can be paired with the Army cemetery flag. For more information or any questions about our Army cemetery flags please fill out our contact us form and one of our experienced Customer Care Representatives will reach out to you!