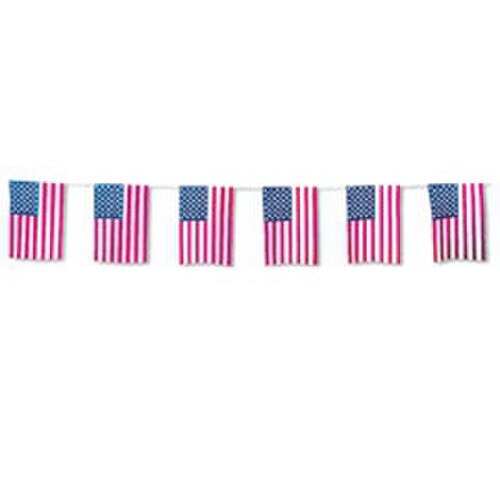 U.S. Flags Pennant String 50'
Details
U.S Pennant Strings flags is the best way to catch someone's eye and celebrate your heritage and patriotism. Carrot Top's U.S. pennant sting flags are the perfect touch for Barbecues, block parties and Independence Day, Memorial Day and events throughout the year. The US Pennant String flags also make a great decorative touch for political events, campaigns and election headquarters. These U.S. flag pennant strings look amazing and create a festive, patriotic mood. For more information about our U.S. Flags Pennant string please see the description tab below.
Our US Pennant String flags will create the perfect mood for any patriotic event or celebration. The US pennant string flags consists of red, white and blue American flags and may be hung anywhere to give the look and feel of the good old USA. The 50' pennant strings are made of 4-mil polyethylene and are designed for either indoor or outdoor use. Each 50' string contains 24 U.S. 50 star flags. Our US flags Pennant strings are both festive and economical and will have both Democrats and Republican united in their support of your American party or celebration. Because pennants are brightly colored, they should not be placed directly again a surface the colors may bleed onto it.
Carrot Top has a broad range of patriotic decorative items. Consider pairing the U.S. flags pennant string with our red, white and blue plastic bunting or our plastic patriotic fan. Carrot Top features American flags in various sizes and fabrics including our exclusive Patriarch® polyester American flag and our Beacon® nylon American flag. Whether for a onetime event or for long terms displays, Carrot Top is committed to courteous and professional customer service. For more information about our American flag fan or any of the products seen here please fill out our contact us form and one of our Customer Care Representatives will reach out to you!