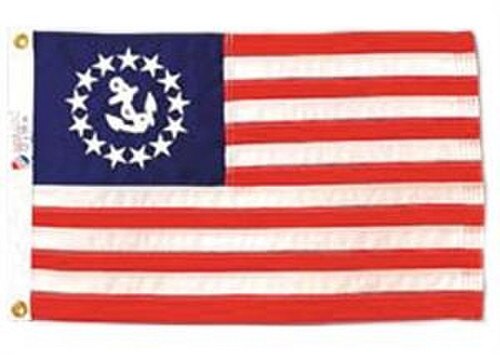 Details
The US Yacht Ensign flag is a modification of the national flag and ensign but with a fouled anchor in a circle of thirteen stars within the canton. The flag is often used in place of a national flag by US pleasure crafts. US Yacht Ensign Flags feature vibrant red, deep blue and beautiful white colors and are crafted with tough, marine grade nylon. These flags are available in four sizes. For more information about our US Yacht Ensign Flags see the description tab below.
Our US Yacht Ensign flag is the proper flag to display when vessels of US national character are operating in international and non- US waters. These flags showcase strong, but lightweight Nyl-Glo Nylon and are designed for long-term outdoor use. Yacht Ensign Flags feature embroidered anchor stars and sewn stripes. These flags dry quickly and beautifully fly in the slightest breeze. Nautical flags are finished with a strong canvas header and solid brass grommets that will not corrode. Sizes available include 12"x18", 16"x24", 20"x30" and 2'x3'.
Carrot Top offers a wide variety of products including custom, patriotic and flag products. Our Patriarch® Polyester American flag and Beacon® Nylon American flag are two of the finest flags obtainable. Our graphic artists are skilled in recrafting your artwork and images onto custom signs, banners and decals. Carrot Top also supplies weather warning flags and nautical code flags and nautical flag sets. For more about our products or for questions or concerns, please fill out our contact us form and one of our Customer Care Representatives will be in touch with you!