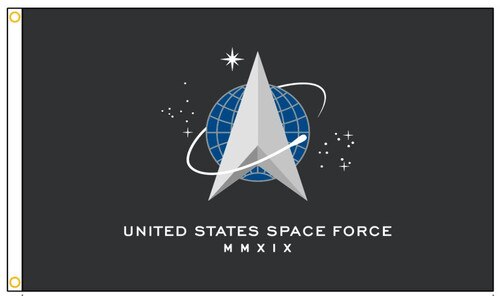 U.S. Space Force Flag - Governmental Use Only
Details
***USAF notified Annin that this official Space Force flag can only be sold to U.S. Government Agencies***

Durable 200 denier nylon material
Four rows of stitching on the fly end
Finished with canvas header and solid brass grommets
Available in size 3' x 5'
Other sizes available at custom pricing (live chat with us or email customercare@carrot-top.com for assistance)
When displayed with departmental flags of other United States military services, precedence is as follows: Army, Marine Corps, Navy, Air Force, Coast Guard and Space Force
For government institution use only (GSA)
Made in the U.S.A.
For more information see below

THIS OFFICIAL FLAG IS NOT MEANT FOR INDIVIDUAL USE AND IS ONLY AVAILABLE TO U.S. GOVERNMENT AGENCIES. For consumer use, please check out our Outdoor U.S. Space Force Logo Flag for Public Use.
Background of the U.S. Space Force Flag
The Space Force Flag is the first new service flag to be made available in more than 70 years. President Trump signed it into law on December 20, 2019, and it serves as the newest service branch of the American armed forces. Its goals include conducting space operations, defending American interests in space, and preventing aggression from and into space. Similar to how the Marine Corps is a part of the U.S. Department of Navy, the new service is a part of the Air Force.
The official Space Force seal is placed in the center of the flag's black backdrop. Under the mark, in white letters, are the words "United States Space Force" and the Roman numbers MMXIX, which stand for the year 2019. The enormous depths of space are depicted throughout through the usage of the hues dark blue and white. These flags are always proudly Made in the USA!
Options Available to Pair Your Space Force
Be sure to make your display dazzle onlookers!

Pair your Space Force Flag with our robust, heavy-duty Beacon® Nylon American flags are expertly made to have a striking appearance and to be long-lasting. These American flags are made from high-quality, fade-resistant nylon to prevent damage from the sun on your display. Our 6-month warranty against flaws, fading, and ripping is included with our Nylon outdoor American flags, which have reinforced stitching. The best outdoor flag for all weather circumstances is a Beacon® Nylon Flag, which is perfect for long-term outside use.

Make sure your U.S. Space Force Flag is paired with one of our high-quality State Flags as well! A state flag is more than just a symbol; it is a representation of the history and character of your state. Carrot-Top Industries offers indoor and outdoor versions of U.S. state flags. Both are made using the best materials and come with the greatest guarantee available. To accommodate various demands and circumstances, sizes range from tiny 8' x 12' flags to enormous 8' x 24' flags. Beacon® nylon and Patriarch® polyester, two of our distinctive flag fabrics, are used to create our outdoor U.S. state flags. Our polyester Patriarch® flags are durable and withstand strong winds for extended periods of time. These flags have a lovely textured appearance like cotton. Our Beacon® nylon state flags are easy to fly even in a light breeze, lightweight, and tough. They also dry quickly. U.S. State Flag Sets for Indoors Indoor state flag sets for the United States are available from Carrot-Top, and there are many alternatives to pick from!

Ensure your U.S. Space Force Flag is displayed alongside one of our Military Flags! Carrot-Top is pleased to provide a range of American-made military flags for all occasions in support of the U.S. armed forces. We even provide a wide variety of military flag banners for use by the government in official capacities. Shop for our basic nylon flags that fly wonderfully in even the slightest breeze or our extra-durable polyester flags made to withstand severe winds. These flags, which come in a range of sizes and styles, are suitable for displaying outside your home, place of business, or organization as well as for patriotic occasions like parades and community events, Veterans Day, and Memorial Day. Military Flag Types: Flying one of our branch flags from the military is a wonderful way to show your support for the armed forces. Flags representing the Army, Marine Corps, Navy, Air Force, Space Force, Coast Guard, Merchant Marine, and National Guard are included in this collection. You will be able to express your appreciation for their military service in an encouraging way whether you are commemorating a veteran or supporting active soldiers.

Not sure how to pair your U.S. Space Force Flag with any of our other high-quality flags? Contact us today! One of our Customer Care Representatives will be eager to assist you in placing an order and answering any of your questions.