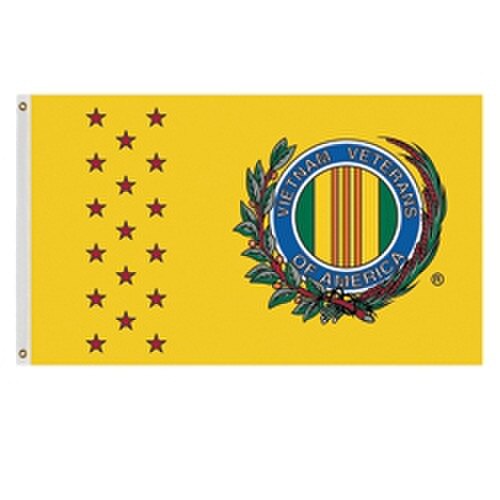 Details
The Vietnam Veterans flag was designed to honor and remember the sacrifices made by U.S military men during the war in Vietnam.
Outdoor use in moderate winds or weather
3' x 5' flag
100% nylon fitted with header and grommets
Digitally printed flag
The Vietnam Veterans flag features a yellow background with seventeen brown stars on the left side of the flag. The stars are arranged in three vertical lines. On the right side of the flag is the Vietnam Veterans of America (VVA) Insignia. The service ribbons given to a soldier who served in Vietnam featured the same golden yellow chosen as the background of the Vietnam Veterans flag.
The 17 brown stars represent the 17 official campaigns in Vietnam. The insignia featured on the veterans flag consists of a pictorial display of the service ribbon given to the military men and women surrounded by a ring with the words "VIETNAM VETERANS OF AMERICA" digitally printed on it. Surrounding that is wreath made of a laurel branch and rice stalks. The rice represents South East Asia and the laurel the honor to all who served there. The two are bound by a black barbed wire which serves as a reminder of POWs and MIAs who are still missing.
The Vietnam Veterans flag is an iconic flag in US military history and is flown at Vietnam Veterans of America events and in Veterans Affairs Committee chambers in the U.S. Senate and the US House of Representatives. Carrot-Top is a proud supporter of all U.S Military branches. See our military flags, honor flags, POW-MIA products and yellow ribbon products. For a show of American national pride see our top quality American flags as well. For more information please fill out our contact us form and one of our Customer Care Representatives will be in touch with you!