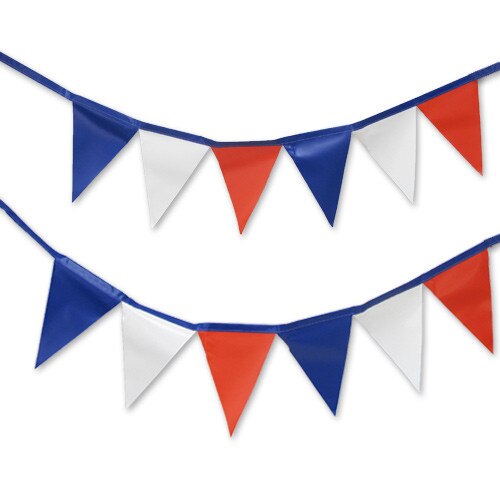 Red, White & Blue Wiggler® Pennant Flags
Details
The red white and blue wiggler® pennant flags include six sections of red, white and blue pennants in alternating order. The pennants are designed for use in both indoor and outdoor settings and can even be used in wet weather because of their water-resistant qualities.
You can rest assured that our red, white and blue pennant flags will turn heads increasing exposure for your event or business. These strings are ideal for patriotic holidays and America themed events. For more about the pennant flags see the description tab below. To order enter the quantity of units you desire and click on the "Add to cart" button.
The red, white and blue wiggler® pennant flags are sold in a 6-pack for a vibrant display in any setting. These wiggler® pennants are perfectly designed for a patriotic event like 4th of July celebrations, Labor Day, Veterans day and many other events that celebrate the national spirit. These pennant flags are perfect for both decorating and marketing purposes. The pennants are vibrant and striking so you can be sure that people passing by will immediately be drawn to the fluttering flags. The flags help point out the location of a special event and often encourage people to walk towards it.
The red, white and blue patriotic wiggler® pennant flags are made of 4-mil polyethylene, often referred to as common plastic. The flags are 4 millimeters thick and can be used in moderate weather conditions for long term displays.
See our red, white and blue wiggler® pennant flag set and our patriotic metallic streamer set for similar options. Browse through our entire collection of pennant strings for red, white and blue patriotic themed strings as well as colorful attention grabbing strings. Our Advertising flags are perfect accompanying products to be used with the pennants as well. Street banners and custom products can be used in a similar capacity, all of these items are perfect for events and special occasions. All of our custom products feature high-quality finishing and our in-house graphic designers will help you through each step of the way. Our large American flags have also been used in road side displays to attract people. Flags measure 60' in length and more, they are an ideal way to turn heads. For more information please fill out our contact us form and one of our Customer Care Representatives will reach out to you!