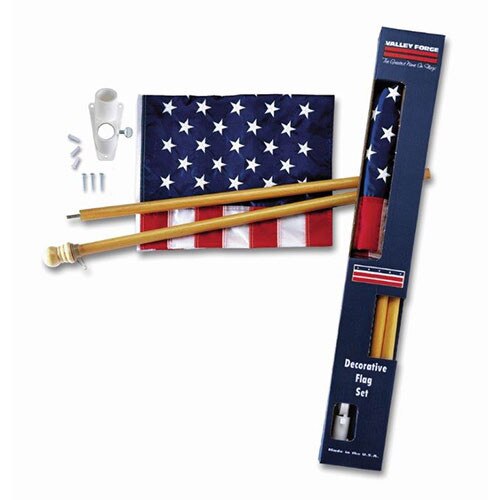 2.5' X 4' U.S. Flag Set With Wood Pole
Details
A front porch with a flag on a wooden pole is as American as baseball and apple pie, and that's exactly what Carrot-Top offers here. It's an attractive nylon flag and a simple wooden pole, perfectly sized and designed for residential use.
Seamless appearance, with fabric wrapped around the pole rather than using grommets for attachment
Simple wooden pole offers a warmer, more traditional look than a metal or plastic flagpole
Hang flag horizontally or at a 45 degree angle
Perfect for holidays or short-term events, or for daily display
Flag Made In USA
Why Buy 2.5' x 4' US Flag with Wood Pole?
There's something about a simple, plain pine pole that just looks right with an American flag…and wood starts to get a patina that keeps looking better as time goes on. Some neighborhood associations and towns put a restriction on the size of a flag that can be displayed, and a 2.5' x 4' flag can be a good way around that issue; it's less overwhelming than a larger 3' x 5' flag. While designed for residential use, this flag pole set could also be a good choice for public areas, placed above existing street banners. Flag is fade-resistant nylon, and the pine flag pole has a traditional wood ball top. You could consider pairing this flag and pole with a Support Our Troops flag. Other good matches could be our 2' x 3' nylon flag on a 5' wooden pole, or Carrot-Top's telescoping freestanding pole.
Questions? Please fill out our contact us form and one of our Customer Care Representatives will be in touch with you!