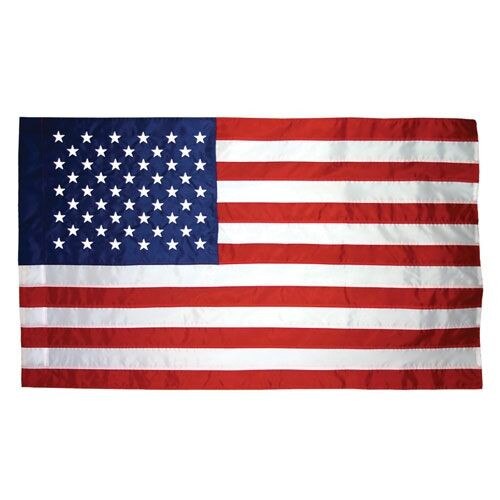 3X5' Annin Nyl-Glo U.S. Flag Banner
Details
Our Nyl-Glo® U.S. Banner Flag is made from durable nylon fabric that is resistant to UV radiation and retains its bright colors over time. Used outdoors on an outrigger flagpole, the banner flag can be hung at 40° or 90°. Most often, this flag is used in home displays and hung from an outside wall or porch. Whether it's your first nylon U.S. banner flag or you're replacing an old one for your home or business, rest assured knowing that this flag will fly proudly for years to come!
Flag banner is available in two sizes: 2.5' x 4' and 3' x 5'
Made from 200 denier nylon with an unlined pole sleeve
Meant for use on a 5' or 6' outrigger pole
Four rows of high strength lock-stitching on fly ends and double rows around rest of the flag
Embroidered stars and double-needle stitched stripes
All thread is color-matched extra strength polyester
Ideal for use in areas of light to moderate wind speeds

Made in the U.S.A.
Why Buy a Nyl-Glo® U.S. Banner Flag?
This U.S. banner flag is ideal for residential use as well as displays in any American town or city. Perfect for areas that don't receive strong winds, these banner flags are crafted with nylon fabric that's resistant to UV radiation and retains the bright colors. Every star on this outdoor U.S. banner flag is embroidered and the stripes are double-needle stitched. The unlined pole sleeve matches the colors of the flag and includes beautiful leather tabs that secure the flag to the pole. Note that this model is not compatible with in-ground flagpoles, as they cannot be attached using snaphooks.
Keep in mind that the smaller flag should be used with a 5' outrigger pole and for the larger 3' x 5' banner flag, you'll need a 6' outrigger pole. Browse our selection of 5' and 6' outrigger poles, perfect for your home display or for mounting on a town streetlight.
Whether you have experienced in mounting flags or have never done it before, you'll find that the pole sleeve helps to prevent the flag from wrapping around the pole, making display set up quick and simple! Flags mounted to the outrigger pole can be hung at a 40° or 90° angle from your wall or porch. So whether it's your home or small business, show your patriotism with this beautiful U.S. banner flag! Cities and towns can also use this flag as decoration on a street lamp for a special event like the Fourth of July, Memorial Day, or a town parade.
How Can We Help?
If you have questions about the Nyl-Glo® U.S. Banner Flag, don't hesitate to contact us! We've been providing quality American flags for over three decades, and our friendly customer care professionals are the most knowledgeable out there. Please fill out our contact us form and one of our Customer Care Representatives will be in touch with you!