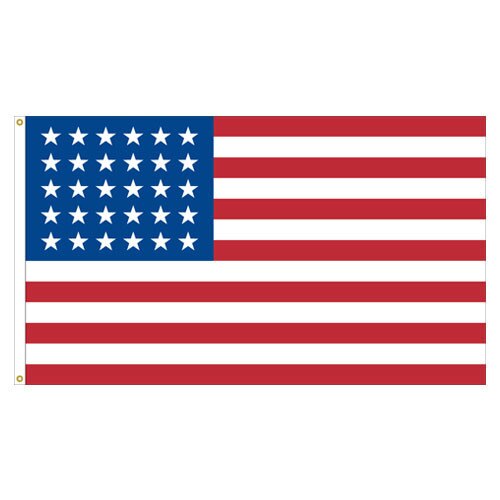 Details
Our 3x5' Nylon 30 Star flag is ideal when celebrating the state of Wisconsin's admission into the Union.
Made of durable nylon and great for outdoor use
Sewn stripes and 30 appliquéd, white stars
Great as a gift or for your personal or company use
Made in America
The 3x5' Nylon 30 Star flag is made of a long-lasting, tough nylon and will accommodate most light to moderate weather types. Complete with a sturdy canvas heading and solid brass grommets, your flag will stay attached to your flagpole snaphooks with worry-free security.
The 30 Star Flag of the United States is the official flag representing the admission of Wisconsin into the Union on July 4th, 1848. The design featuring 30 stars denotes the May 29th, 1848 statehood granting and lasted for 3 years. This flag was flown during the Presidency of James Polk (1845-1849), Zachary Taylor (1849-1850) and Millard Fillmore (1850-1853).
In addition to the United States Historical Flags, Wisconsin flags for both indoors and outdoors as well as complete indoor sets. Including lapel pins, with the United States flag and without, for the great state of Wisconsin, handheld Wisconsin state flags are also available for parade and giveaway use. Always available and an attractive addition to your Wisconsin flag display are our American-made United States flags for both indoors and outdoors. Our exclusive Beacon® Nylon and Patriarch® Polyester flags are ideal for outdoor use in their respective weather environments. For more information, please fill out our contact us form and one of our Customer Care Representatives will be in touch with you!