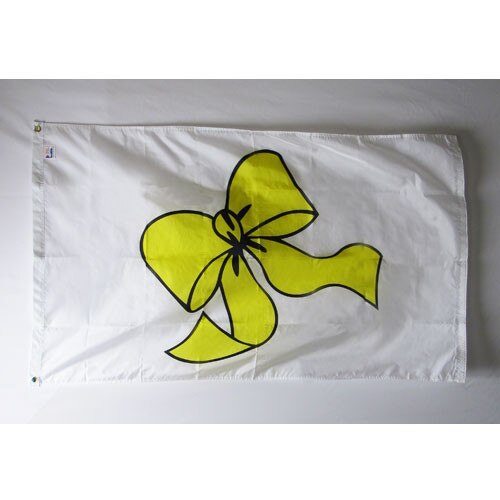 Details
The yellow ribbon flag is a great way to commemorate the return of a soldier from deployment. The flags feature a white background and a yellow ribbon tied in a bow. The yellow ribbon featured on the flag is similar to the ribbons tied around the shaft of an oak tree.
These flags are ideal for long-term outdoor use in all-weather conditions. For more detailed information about the yellow ribbon flag see the description tab below.
The yellow ribbon flag can be used to welcome soldiers home or as a sign of support and gratitude towards the brave men and women fighting for our safety. The yellow ribbon campaign came to be popularly associated with returning soldiers during the Gulf war. A yellow ribbon campaign was carried out in which loved ones and supporters of the American military branches would tie yellow ribbons to a tree in remembrance. Yellow ribbons were also used widely during the Iranian hostage crisis. People would tie yellow ribbons or wear yellow ribbons to symbolize the safe return of the hostages.
Our Yellow ribbon flag is made of the same sentiment. These flags can be used to remember or support the brave men and women in the military departments fighting for our freedom in other countries. The yellow ribbon flag is a great way to show your support and let fallen soldiers know that their sacrifice is not forgotten. The flags are made of durable and water resistant nylon to be used in indoor and outdoor displays. The flag is finished with fly-end stitching to prevent fraying and a header and grommets for easy attachment to one of our outdoor flagpoles.
Carrot-Top offers a variety of yellow ribbon products to help show gratitude towards the men and women of the military branches. We also offer a variety of other items to celebrate the return of deployed soldiers like our military welcome home flags and banners. For more information about the Yellow ribbon flag please fill out our contact us form and one of our Customer Care Representatives will be in touch with you!