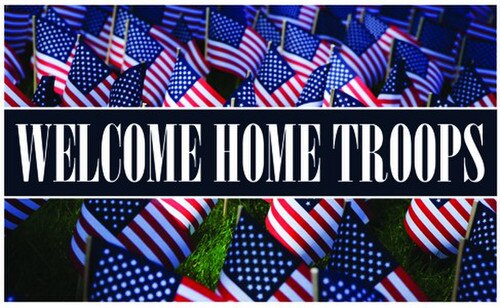 3'X5' Military Welcome Home Flag
Details
The military welcome home flag is perfect for a celebratory event to welcome returning soldiers from deployment. Our welcome home flags are made of nylon and feature digitally printed designs. The flags are perfect for outdoor use in all weather conditions.
These military welcome home flags are extremely light and can be transported with ease and attached to any outdoor flagpole. For more information about the Welcome home troops nylon flag see the description tab below.
LIMITED QUANTITY AVAILABLE
The Welcome Home troop flags are perfect for use to welcome your loved ones or as decoration for a Welcome home celebration. These flags are made using nylon and great for both indoor and outdoor use. The flags measure 3'x5' and can be used with our outdoor flagpoles.
The digitally printed graphics on the military welcome home flag features a field of mini American flags standing up-right. The words "Welcome Home Troops" are printed in white on a black ribbon that spans the width of the flag. All of our military welcome home flags are proudly made in America and you can rest assured that they were built with pride. The light 3'x5' flags are perfect for use with any sort of flagpole and can even be placed on a wall as a banner or wall decoration.
For more information, please fill out our contact us form and one of our customer care representatives will reach out to you!