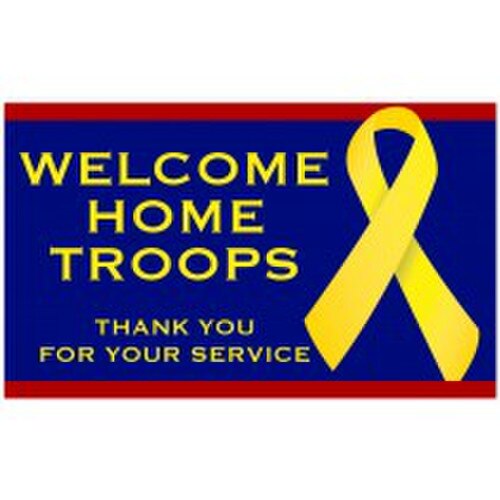 Military Welcome Home - Yellow Ribbon Flag
Details
The welcome home yellow ribbon flag is a great way to welcome home your heroes from deployment. The military welcome flag features a large yellow ribbon and the words "Welcome home troops. Thank you for your service" printed on a blue background. The flag is framed on top and the bottom with two red lines.
For more information about the Welcome home yellow ribbon flag see the description tab below or call us.
LIMITED QUANTITY AVAILABLE
The Military welcome home yellow ribbon flag is a great way to celebrate the safe return of a soldier. These flags are made of durable nylon fabric and measure 3'x5'. The yellow ribbon has been an iconic symbol in American folklore for decades and it has always been used as a symbol of hope and gratitude in times of trouble. The origins of the symbol are traced back to folk songs that go back more than 100 years. The yellow ribbon campaign gained popularity during the Iranian hostage crisis when Americans would tie yellow ribbons on oak trees to wish the hostages a safe return.
The welcome home yellow ribbon flags are made of 200-denier nylon, one of the strongest and commonly used nylon flag fabrics. These flags are ideal for both indoor and outdoor use and are extremely light allowing for easy transportation, installation and "˜flyability'. All of these Welcome home yellow ribbon flags are digitally printed making for a fade-resistant, durable flag. These flags feature a header and grommets for attachment and can be used with our outdoor flagpoles and flagpole arrangements.
Carrot-Top offers a variety of yellow ribbon products to help show gratitude towards the men and women of the military branches. We also offer a variety of other items to celebrate the return of deployed soldiers like our military welcome home flags and banners. For more information, please fill out our contact us form and one of our customer care representatives will reach out to you!