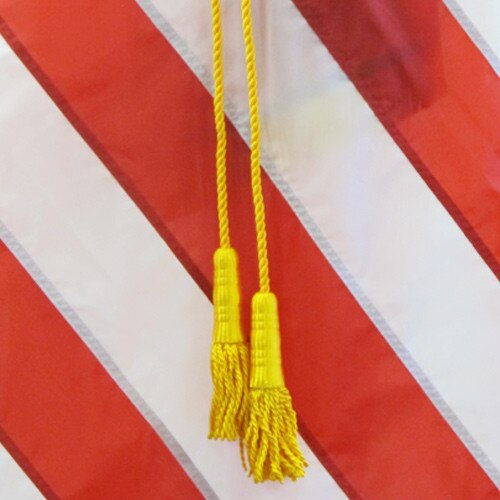 TASSEL AND CORD SET- 5" GOLD
Details
Our 9' Gold Cord and 5" Tassel Set dress up your flag display and create a distinguished and polished presentation. This golden cord and tassel set is the perfect accent to complete any indoor, mounted flag or flag set in your home, office, lobby or building. These cord and tassels are also a great addition to parade flag sets.
Recommended for use on 7' or 8' flagpoles
108"(9') x 5/8'Diameter cord with 5" tassels
Designed for use with 3'x 5' flags
Made with superior rayon gold cord and matching tassels
Intended for indoor & short term parade use only

MADE IN THE USA
Why Buy a Gold Cord and Tassel Set?
Our 9' gold cord with 5" lustrous tassel set is made with beautiful gold rayon and plush tassels. This flagpole accessory gives your displays the perfect touch and creates a formal and more elegant look. The 9" golden yellow cord has a diameter of 5/8" and is accented by matching 5" gold tassels on each end. This set will take your display to the next level with style and flair in only a few moments. These sets are a must have for Government offices, places of worships, schools and business. Gold Cord and tassel sets will give your parade set a distinctive touch and a grand look.
Carrot-Top offers a range of products and services that allow you to show off your patriotism with style. In addition to our Cord and Tassel sets, we also feature parade gloves, deluxe carrying cases and parade carrying belts . For assistance placing an order or for answers questions regarding our products and services please fill out our contact us form and one of our Customer Care Representatives will be in touch with you!