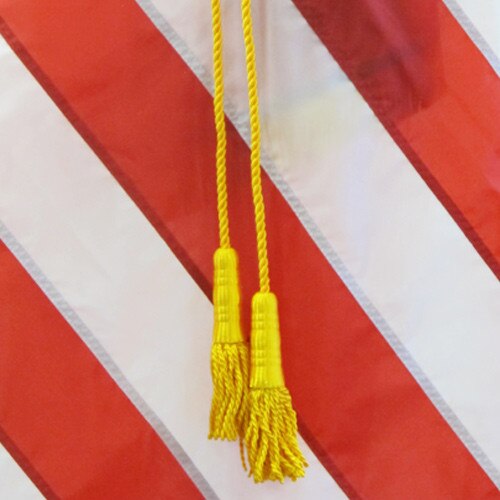 9' Gold Cord With 6" Tassels
Details
Our Gold Cord and 6" Tassel sets add style, flair and professionalism to your indoor, mounted flag or parade flag set. This gold rayon flag accessory is the top choice for schools, government offices, conference centers, religious institutions and homes.
Primarily designed for use on 9' flagpoles with 4'x 6' flag
9' (108") x 5/8" Diameter cord with 6" tassel
Elegant yet durable plaited rayon cord with 6" gold tassels
Adds style and create a more distinguished look for your flag display
Recommended for long-term indoor or short-term parade use only
Proudly made in the USA
Why Buy a 6" Gold Cord and Tassel Set?
Gold Cord and 6" Tassel Sets beautifully decorate your indoor flag set. These distinctive 9-foot gold cords feature 6-inch tassels on each end. These sets are constructed with small, elegantly braided rayon ropes and lustrous gold tassels. Cords have a diameter of 5/8". Accessorize your flag display in seconds with this stylish accent for a presentation that is stately and polished. These sets are ideal for displays at government buildings, schools, businesses, courtrooms, and homes.
Carrot-Top offers everything you need for patriotic displays, custom items and special event products. Browse our parade supplies which include parade gloves, deluxe carrying cases and parade carrying belts. For more information about any of our products and services, please fill out our contact us form, and one of our Flag Pros will be in touch with you!