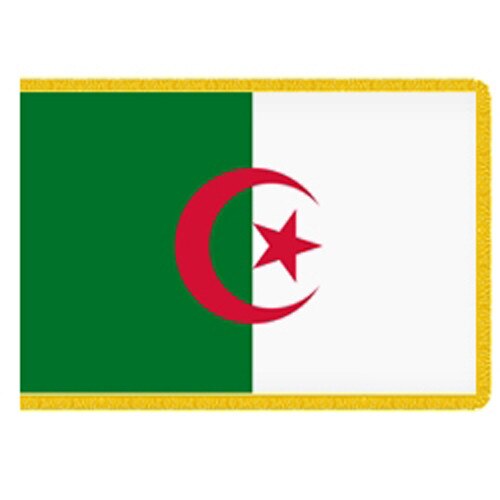 Details
The indoor Algeria flag is ideal for an ornate display in an office, embassy, government building or any other indoor event space. These Algeria flags are designed for use with parade poles too. The flags come in a 3'x5' size and are made of strong nylon with a gold fringe.
To learn more about the indoor Algeria flag see the description towards the bottom of this page. To order a product, enter the number of units required and then click on the blue "Add to cart" button.
Indoor Algeria flags are made of vibrant nylon and feature the official colors and design of the Algerian flag as signed in to Algerian law in 1962. The flag is designed with two vertical halves as the background. The left half of the flag is colored green to represent Islam, the dominant faith in Algeria. The other half is colored white to symbolize purity. In the fore ground and center of the flag is a red crescent and star, another widely recognized symbol for Islam and Muslims around the world.
The indoor Algeria flags come with a fitted gold fringe that runs around the three outer sides of the flag. The gold fringe is made of rayon material and provides contrast and prominence to the flag. The flags are designed with a pole sleeve on the inner most side of the flag (the side with no fringe). The pole sleeve can accommodate all indoor and parade flag poles with ease.
See our outdoor Algeria flags and the entire collection of world flags. The indoor flag matches up perfectly with our indoor and parade flag poles. We carry everything you need to finish your flag display in style, browse through our indoor flag pole accessories section to find items to complete your flag display. See all of our flag poles, American flags, custom products and our property management items to find more items to fit your needs. For more about our products and services please fill out our contact us form today!