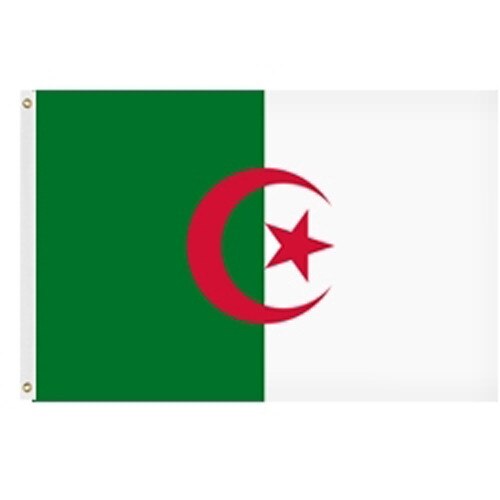 Details
Our outdoor Algeria flags are made of sturdy nylon and are perfect for use in all-weather conditions with average wind speeds. Algerian flags are available in 4 different sizes: 2'x3', 3'x5', 4'x6' and 5'x8'. The flags can be attached to an outdoor flag pole using the canvas header and brass grommets on the flag.
Our outdoor Algerian flags feature the official colors and design as designed by the Algerian authorities. For more information about these outdoor flags see the description below. To order select a size from the drop down menu, enter the number of flags to be included in the order and click on the "Add to cart" button below.
The outdoor Algerian flag is made of tough nylon material. Nylon flags are widely regarded as being the most flexible and versatile flags in the industry. The flags are extremely light and they do not absorb water like many other flags. This allows the flag to fly proudly with just a light breeze, even when it is wet. The water resistance of the flag ensures that the nylon outdoor Algerian flags dry easily.
Outdoor Algerian flags feature the official design and colors of the Algerian flag. The Algerian national flag is designed with a red crescent and star in the center of the flag. The flag is divided into two vertical halves with the left half colored green and the white half colored white. The crescent and star symbol and the color green on the flag both represent Islam while the white half of the flag stands for purity. This Algerian flag was first designated as the national flag of Algeria in 1962.
See our indoor Algerian flags and our entire collection world flags to find more national flags to suit your needs. Couple the outdoor Algerian flag with one of our residential or commercial outdoor flag poles to make a proud and complete flag display. We also supply many different parade and indoor poles for indoor flags. Browse through all of our outdoor flag pole accessories to find everything you need to complete and polish your flag and flag pole. Shop our unmatched collection of American flags and property management supplies. For further details, please fill out our contact us form and one of our Customer Care Representatives will be in touch with you.