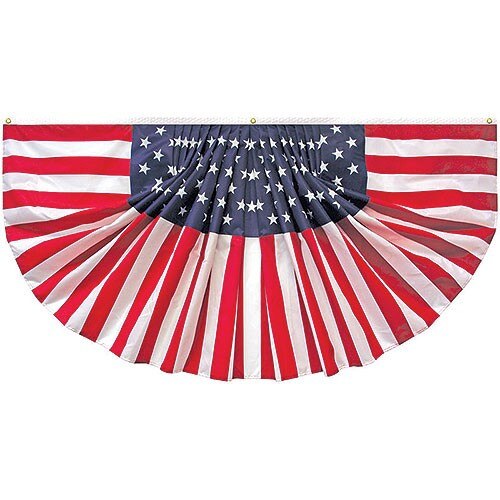 Polyester American Flag Fan - 3' X 5'
Details
The American Flag fan is made of durable polyester and perfect for your 4th of July celebration, Memorial Day celebration or any other patriotic event. This 4th of July fan is designed to resemble the American flag with the blue field with white stars toward the inner side of the flag and the outer fan area is covered in alternating red and white stripes.
For more information about the American Flag fan see the description tab below.
Our American Flag fan is a part of our robust collection of patriotic decorations. Patriotic fans have been a staple of stately decorations for centuries; in the United States, they date all the way back to the 19th century. Our American flag fans feature brightly printed stars and stripes on light polyester and feature a pleated design to give it a flowing appearance.
The American flag fans are light and perfect for transporting. The fans can be used in both indoor and outdoor long term displays. The light polyester material and digitally printed graphics retain color in wet, sunny or windy conditions. The American flag fan is finished with a white header and grommets for attachment. These fans can be used with our flag halyard and flag hooks for an upright display.
Carrot-Top offers a wide range of Patriotic items like our banners wind socks and pulldowns, lapel pins, American flags of all sizes, patriotic street banners and flags of all the military departments. We proudly offer POW/MIA flags to remember our brave soldiers, proceeds of which help families of missing soldiers. Also see our commercial and residential flagpoles. For more information about our American flag fan or any of the products seen here please fill out our contact us form and one of our Customer Care Representatives will reach out to you!