History of the North Carolina Flag
Published on
December 10, 2012 at 2:13:00 PM PST December 10, 2012 at 2:13:00 PM PSTth, December 10, 2012 at 2:13:00 PM PST
After being driven out by fierce opposition of Charlotte & Mecklenburg's citizens to British occupation in 1780 during the American Revolutionary War British General Cornwallis wrote that "Charlotte Town was a hornet's nest of rebellion." The date "May 20, 1775" reflects the date that the citizens of Mecklenburg declared independence from Britain… more than a year before the Continental Congress in Philadelphia declared independence from Britain. The "hornet's nest" nickname was the inspiration for Charlotte's former NBA team the Charlotte Hornets.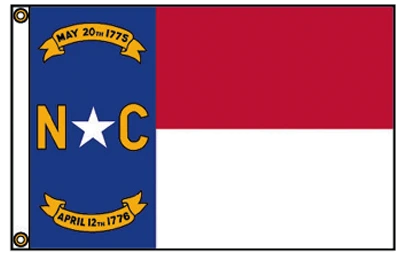 The North Carolina state flag actually looks nothing like the originally proposed design which was a blue field with a white "V" and encircling stars in the center with the words, "Sirgit astrum, May 20, 1775."
This design was given to Raleigh artist, William Jarl Browne, who created the design that very nearly resembles the current state flag design: a red, vertical bar or "field" on the left with a star in the center and the dates May 20, 1775 and May 20, 1861 (the day North Carolina seceded from the union) encircling it. There are two horizontal stripes making up the "fly" of the flag, the top stripe blue and the bottom stripe white.
The design has a blue field on the left with a white star in the center surrounded by "N" on the left and "C" on the right. Above the star there is a scroll with the date "May 20th 1775″ and below there is another scroll with the date "April 12th 1776″. May 20, 1775 was the date of the Mecklenburg Declaration of Independence; this document closely resembles Jefferson's Declaration of Independence and was said to be adopted by the county of Mecklenburg as a means of claiming independence from Britain. April 12, 1776 was the date of the Halifax Resolves in which North Carolina approved a vote for independence in the Continental Congress. This was the first official action taken by a state toward independence as a nation.
It is important to note that, following the Civil War, North Carolina changed their flag to emphasize unity as a nation rather than unity as a state. Both of the dates currently on the North Carolina flag represent declarations of independence from Britain rather than independence from the Union as was demonstrated on the pre-Civil war North Carolina flag The current flag design also stresses the bold actions taken by North Carolina toward independence from Britain, showing both the state's courage and commitment to unity.
Click here to see more North Carolina flags.
Want to learn more about other state flags from around the United States? Click Here.