Memorial Day: Ways To Get Involved Even From Afar
Published on
March 16, 2020 at 11:36:00 PM PDT March 16, 2020 at 11:36:00 PM PDTth, March 16, 2020 at 11:36:00 PM PDT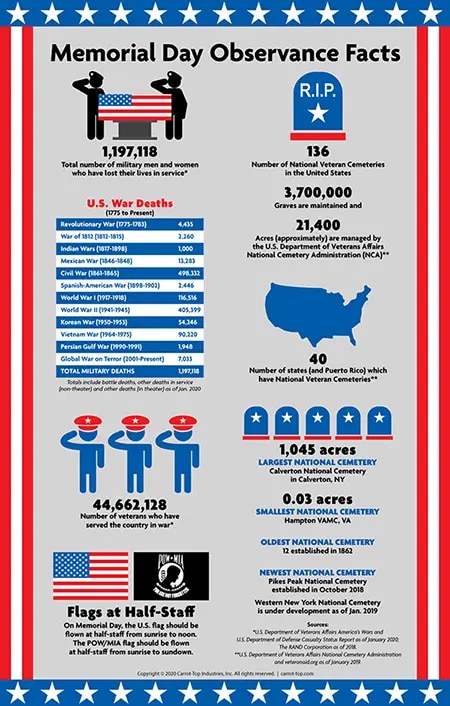 Updated since the coronavirus (COVID-19) pandemic hit the United States.
Memorial Day, observed every year on the last Monday of May, is a federal holiday in remembrance of all the men and women who died in U.S. military service. Formerly known as Decoration Day, Memorial Day started as a way to honor Union soldiers who died during the Civil War after they saw how Southerners honored their deceased loved ones' graves with floral decorations and prayer recitation. After World War I, Memorial Day's observance included any American who died in any war or military operation. Decoration Day became known as Memorial Day after World War II and became an official federal holiday in 1971.
Even if you don't have a direct connection to the military, you can still participate in activities to show your appreciation for those who died serving our country fighting for the freedoms and rights we enjoy daily. Everyone observes Memorial Day differently, and there isn't one right way to do it. This year, Memorial Day is on May 25, and it will be here before you know it. Even if we are still self-isolating across the country at the end of May due to the coronavirus, there are ways to participate on Memorial Day. Find a way that your business or organization can recognize veterans who have passed and help veterans who are still with us, even if your staff participates individually from their homes. Find inspiration from our list of seven ways you and your friends and family can honor fallen service members this year.
1. Fly your U.S. Flag and POW/MIA Flag at Half-Staff
On Memorial Day, you should fly your U.S. flag at half-staff from sunrise until noon. The U.S. flag only flies at half-staff until noon to honor the veterans who have died for the morning. When the flag is raised to full staff at noon until sunset, it honors the living veterans for the rest of the day. This tradition symbolizes that our country is still standing even in the face of military lives lost. If you have a POW/MIA flag, it is required to be flown at half-staff from sunrise to sunset on Memorial Day to honor all of America's Prisoners of War and Missing in Action. When you fly your flags on one pole, the U.S. flag should be on top, followed by the POW/MIA flag, and then the state flag. If you have two poles, the POW-MIA flag should be below the U.S. flag on one pole and the state flag should fly on the second pole. If you have three poles, the order of importance is the U.S. flag, POW/MIA flag and state flag. If your home has a U.S. flag and/or POW/MIA flag affixed to it, you can attach a Black Mourning Bow to the top of the flagpole. The bow is an alternative for flagpoles that cannot have a flag flown at half staff. Flying your U.S. and POW/MIA flags at half-staff on Memorial Day is a powerful visual reminder to yourself and others of the day's meaning every time you look at your flags.
2. Participate in the National Moment of Remembrance
At 3:00 p.m. local time on Memorial Day, pause for a moment of silence for those who have died while serving in the military as an act of national unity. For at least one minute, send love, prayers and thoughts to those who died in service as well as those who are still serving. The National Moment of Remembrance, established by Congress in 2000, is a simple way to show appreciation to our fallen service men and women.
3. Watch Memorial Day Specials or Past Parades/Concerts on TV/Internet if Your City is Unable to Hold Public Events
Many Memorial Day parades and concerts will be canceled this year, but you can still enjoy TV specials or past parades and concerts on the internet. The American Veterans Center's National Memorial Day Parade will live on in a pre-recorded television special titled "The National Memorial Day Parade: America Stands Tall" to be broadcast on Memorial Day on ABC, CBS, NBC and Fox stations nationwide. You can also watch the 2019 National Memorial Day Parade or the 2019 National Memorial Day Concert on YouTube.
4. Visit a Veterans Memorial Online
Many people like to visit local veterans' memorials in their city or state, but this year, travel plans may be put on hold. You can still use this year to plan which memorials you would like to visit in person next year for Memorial Day. Use the internet to research the most well-known memorials honoring American soldiers. In Arlington, VA, there is The Tomb of the Unknown Soldier, The Marine Corps Memorial, The Air Force Memorial or The Women in Military Service for America. In Washington, D.C., there is The National World War II Memorial, The Korean War Veterans Memorial, The Vietnam Veterans Memorial or the African American Civil War Memorial. All of these veteran's memorials are a beautiful tribute to those we have lost.
5. Visit a Veterans Cemetery
Every Memorial Day, people visit local veterans' cemeteries to place flags and flowers on the graves while ensuring that they are free from debris. If you have loved ones who died serving the country, visit their graves. You can also check with local veteran cemeteries to see if they have an "Adopt-A-Grave" program where you agree to regularly care for and decorate a veteran's gravesite. You can volunteer through Memorial Day Flowers to place roses on headstones and quietly honor the veterans buried at the Arlington National Cemetery or at a local cemetery. Check the program's website for the latest plans for the 2020 event. It may be held at a later date due to the coronavirus. If you physically can't make it to a cemetery, you can donate money to help volunteers place flowers on graves.
6. Donate Your Time to Support Families of Those Killed in Combat
Sometimes a family just needs a letter to get them through a difficult day of carrying on after a loved one is killed while in combat. Some organizations, such as Soldiers' Angels, have programs where you can send personalized sympathy cards to grieving families and cards of remembrance to the family on the anniversary of a service member's passing. By donating your time, you can remind surviving family members that their loved one is not forgotten.
7. Thank or Help a Living Veteran
Show appreciation to veterans who survived their service in defending the country. Show gratitude and respect for those who are still living and can share their stories. You can help disabled veterans through organizations such as Disabled American Veterans (DAV). You can also send letters of appreciation to U.S. military serving around the world through A Million Thanks or send a care package to those who bravely serve our nation through Operation Gratitude. You can even help by just listening to veterans and their families' stories through recordings with StoryCorps.
As you prepare for Memorial Day this year, take a moment to remember the U.S. service members who have died and appreciate the freedom and protection you enjoy every day due to their sacrifices. Find a way that you can recognize the veterans who have passed and help veterans who are still with us. As we say at Carrot-Top Industries, Go Make A Difference – Go MAD!