Nautical Flags Take Center Stage Again: Are You Flying Them The Right Way?
Published on
August 1, 2021 at 2:09:00 PM PDT August 1, 2021 at 2:09:00 PM PDTst, August 1, 2021 at 2:09:00 PM PDT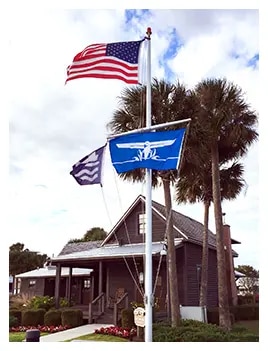 Ships, seaside businesses and residents of coastal cities are preparing for another unpredictable hurricane and weather season. When radios are out, power is down and ships need to talk to shore or with other ships, it's the time-tested system of nautical flags that allows for that communication to happen. Though originally created for military purposes, nautical flags are now a versatile and international language of silent communication. Nautical flags can provide self-identification, dire warnings or even instructions in nautical racing competitions.
Nautical flags are best flown from a nautical flagpole, which resembles the mast of a ship. A nautical flagpole evokes the sea, making it a popular choice for a flag display at seafood restaurants, marinas, yacht clubs or at beach or lake properties. Many people do not understand the reasoning behind the placement of the flags on a nautical flagpole or the naval history behind the proper protocol for displaying multiple flags on a nautical flagpole.
First, we have to go back to the gaff-rigged flagpole and its origins at sea. In the days of sailing ships, flags were the only way for ships to communicate at a distance, and it was imperative to be able to identify the nationality of another ship. However, the flag couldn't be clearly viewed if it was at the top of the ship's main mast. And as sailing technology evolved and ships were designed with large boom sails to help with steering, the ship's stern was traditionally the captain's position of command. Thus, the stern became the preferred place to display the boat's national flag.
Today, warships are made of steel and the days of sailing vessels are long gone. Still, traditions linger and the flag protocol for naval-style flagpoles is still in place. The United States Power Squadron is an organization for yachting clubs and other boating organizations, and they have published a booklet entitled "How to Fly Flags, Nautical Flag Display." Following is a quick summary of their boat flag-flying guidelines:
In terms of flag hierarchy, if you are flying the U.S. flag from a yardarm flagpole, the U.S. flag should be at the very top of the mast. State flags, club flags, nautical flags or other flags should be flown from halyards leading up to the yardarm.
However, if you fit your yardarm flagpole with a gaff, which is an additional pole extending at a right angle to the yardarm, the U.S. flag should be flown from a halyard leading up to the gaff. The club pennant or burgee should be flown from the top of the mast, with state flags or other flags flown from the yardarm's halyards. In the case of a gaff-mounted U.S. flag, it may seem inappropriate to not display our national flag at the top of the mast; however, this ties in with the naval traditions outlined above and harkens back to the days when the flag was flown at a sailing ship's stern.
Most people are not familiar with these naval flag traditions and may initially be taken aback that the American flag is not flown at the highest point of the yardarm with a gaff. This was the case a little while back in St. Augustine, Fla., at the Palm Coast Yacht Club. A local veteran's group was dismayed to see the American flag at the peak of the gaff instead of the top of the mast. To resolve the veterans' concerns, Yacht Club leadership obtained a letter from the Secretary of the Navy to confirm that the club was indeed displaying the American flag properly for their type of flagpole.
The Long Reach of Tradition
While the days of sailing vessels are long gone, traditions often linger. To this day, the Navy still teaches its sailors flag semaphore so signals and messages can be sent in case of of communications breakdown. This is one of the reasons the protocol for naval-style flagpoles is still in place.
But the lingering impact of tradition doesn't stop there. There is even Navy protocol that applies to how to dress a ship with nautical flags for holidays or other special occasions. The recommended practice, as there is double the number of letter flags as numeral pennants, is to dress a ship in an alternating sequence of two flags and one pennant. The protocol here was largely decided due to aesthetic considerations.
With no law on the books laying out the rules for nautical flag flying, it is important to be familiar with the history of these flags. Nautical flag history directly affects current-day protocols. These traditions and protocols are important to know as nautical flags take center stage once again during the summer months.
If you have questions about how to properly fly and care for your flag, check out our flag code and flag etiquette resource pages. You'll find comprehensive guidance on how to display the flag, how to fold and store it, and how to handle it with the proper respect. At Carrot-Top Industries, Inc., nobody knows more about flags than we do.
Does your boat or beach property need a nautical flagpole or nautical flags for safety warnings, shore-to-ship dialogue or patriotic adornment? We can help you with all your nautical flag needs, including a basic set of signal code flags, a complete set of signal code flags, storm flags, semaphore flag sets, nylon skin diver flags and U.S. flags for boats. Our selection of nautical flagpoles and sets includes flagpoles with yardarms, ranging in size from 20' to 40'. You may also be interested in our American flags and military flags to fly from your nautical flagpole on your beach property.
Diagram Image Resource:
Online Resources:
https://www.newschief.com/news/20110531/club-shows-proper-respect
https://www.usps.org/national/fecom/faq/flag/gaffpole.html
https://www.usps.org/index.php/2015-02-25-21-22-35/2015-04-24-01-31-13/2015-04-24-01-35-01
Email us at marketing@carrot-top.com to share your comments or questions about this blog. You may also email us if you have a topic you would like for us to cover or if you are interested in submitting an article as a guest writer.