Strengthen Your Community Pride With Street Banners
Published on
June 9, 2020 at 8:10:00 PM PDT June 9, 2020 at 8:10:00 PM PDTth, June 9, 2020 at 8:10:00 PM PDT
If a street banner is designed effectively, it can brighten up any downtown area, school campus, parking lot, or street, and more importantly, strengthen the sense of community pride. A street banner can revitalize your streets and buildings while welcoming visitors and even provide directions, celebrate holidays, and promote special events.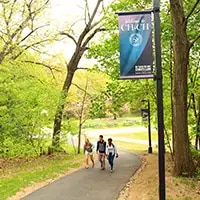 School Street Banners
Public and private schools can use street banners at their athletic fields or in their gyms to showcase sponsors and student-athletes. The school logo or mascot can be highlighted throughout the school to build school pride. Street banners are also commonly used to identify student bus and car rider locations to promote safety and awareness of pedestrians. They can even be found in various parking lots to identify visitor, teacher, and student parking areas.
University & College Street Banners
Universities and colleges have similar needs but typically on a grander scale. Anyone who has lost their car as a freshman in a sea of massive parking lots quickly learns to look for the parking lot name and row number on the light pole banner before leaving their car. Athletic field street banners easily identify the different seating sections, allow for sponsor advertising space, and spread school spirit with their mascot or logo. Light pole banners on campus help identify buildings, emergency phone locations, and provide student and visitor guidance.
City, Town, & County Street Banners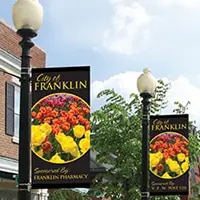 For cities, towns, and counties. street banners build and promote community and tourism. There may be a single design for all banners displaying the city or town seal which can be used year-round. They may recognize an important community member, local military hero, or historical event significant to the neighborhood. Street banners can promote a city's special sport, festival, concert, and tour events. Some towns use different seasonal banners to bring holiday spirit to its residents and visitors. Another option is the use of Avenue Banners which allow local businesses to advertise their location in the community. We have worked with many towns to create a Street Banner Sponsorship Program which involves adding each business's name to the bottom of the banner. Remember a town is only as successful as the businesses it hosts, so supporting each other is the key!
Branding Opportunities with Street Banners
The branding opportunities with street banners are limitless. Banners not only give information, but they also help shape your location's identity. A well-done banner makes people smile and feel comfortable about where they are and what they belong to, whether it is a school or city. Our street banners help create communities and reinforce a school or town's personality. They are the first things guests and residents notice, and first impressions matter so it is important to make them count.
Carrot-Top Industries offers an online comprehensive Street Banner Gallery and Street Banner Guide to help you determine the best street banner design, size, shape, fabric, and hardware for your community environment.
Call us today at 800-628-3524 or get a quote online to learn more about street banner pricing.
This blog was updated on June 9, 2020.