street banner guide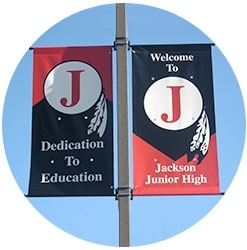 CUSTOM STREET BANNER GUIDE
Since 1980, Carrot-Top Industries has been providing high quality American made stock and custom street banners to towns, schools and organizations across the nation. Street banners are also known as avenue banners and light pole banners. Typically used on main streets in towns and on school campuses, a custom street banner is a great choice to showcase what's unique or special about your community. Below you will find information on many topics including ordering, designing, installing and caring for your new street banners.
Call 800-628-3524 to speak with an experienced customer service representative that will guide you to choose the best street banner to display at your location.

THE SIZE OF YOUR STREET BANNER
Choosing the right size street banner for your location and design is essential. We have included the typical pole size that coordinates with our most common street banner sizes. If you are looking for a custom size street banner to suite your individual needs, please call our experts for pricing.
IMPORTANT: CALL US IF YOU HAVE STATIONARY HARDWARE
If you have stationary or permanent hardware already in place on your poles, please call to speak with an expert. It's important that we obtain exact measurements to ensure a perfect fit.
Special street banner shapes create an eye-catching display to showcase your message, logo and spirit. Call our customer service experts to discuss pricing and hardware options to fit your shape. Pennant shaped street banners utilize an Eyelet Bracket to secure at the bottom.
THE BEST FABRIC FOR YOUR STREET BANNER
For help choosing the best material to suite your environment, call our Customer Service experts today. Please note that all finished street banners will read correctly on the front and back.
POLE SHAPE GUIDE
Icons represent pole from a bird's eye view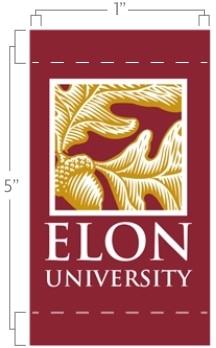 IMPRINT AREA FOR TEXT & LOGOS
Our experienced Graphic designers work within the imprint area parameters to ensure the design is well placed to avoid cutting off important elements. In the Elon University street banner example, we are showing a solid background with a centered logo. The margins on each side are considering the space needed to properly finish the banner with pole sleeves and sewn hems. Some designs with patterned backgrounds will wrap with the finishes to ensure a seamless look.
DOUBLE-SIDED STREET BANNERS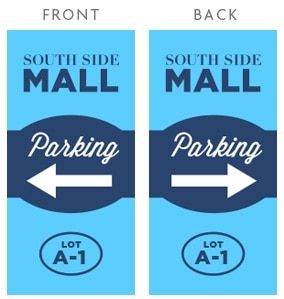 HOW TO FORMAT
When designing a double-sided street banner that points in a specific direction it is important to note that the reverse side arrow will need to mirror the front of the banner. You can see this shown in the example on the left. If you were to print out this example and fold the paper in half, the arrows would both point in the same direction. Be sure to keep this concept in mind when discussing a double-sided street banner. Also, always make sure the front side of the banner is facing in the desired direction.
OUR GRAPHIC ARTISTS ARE HERE TO HELP YOU - GIVE US A CALL
Our team of customer service representatives and graphic designers will work with you to create your perfect design based on photos, logos or your ideas!

FIND INSPIRATION
We can modify a stock design or build a new design from any of the examples shown in our Street Banner Gallery.
Please note that a $40 artwork charge may apply for graphic services rendered. Call us today at 800-628-3524 to get started.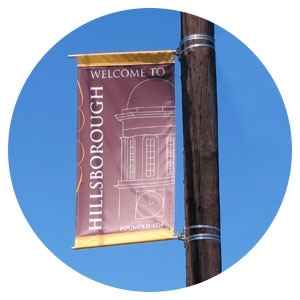 Example of Hardware Installed Correctly
WHAT YOU NEED TO KNOW
Below are a few rules and tips to follow in order to insure your street banners are installed correctly.
Follow the instructions supplied with the specific hardware you purchased for proper installation

Always verify that high profile traffic, such as busses and trucks, will not come in contact with the installed brackets

We recommend new installations be visually inspected 30 days after initial installation to insure brackets are tight and trim

Always inspect banners after unusually heavy windstorms, as abnormal gusts and flying debris may affect the quality of installation
HOW TO MAKE YOUR BANNERS LAST
Below are a few rules and tips to follow in order to get the most our of your street banners.
Never store banners wet

Banners should be kept in a cool and dry place

Keep banners out of direct sun and avoid prolonged exposure to heat when stored (car, trunk, storage building, etc.)

Never fold your banners; Roll banners on a tube and line with unprinted paper to avoid ink transfer

Depending on your hardware, you may want to remove your banner arm when not displaying a street banner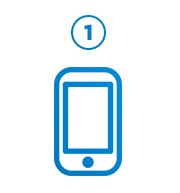 CALL US
Reach out to our custom product experts today at 800-628-3524! We will guide you through the order process and are prepared to answer any and all questions you might have about our custom street banners. We are ready to place your order or start a custom quote based on your needs.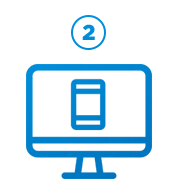 ART CREATION
Once you have decided on your custom product options, our experts will discuss the design you have in mind. We may request a photo or file of the elements you want us to reference for the concept. Next, our team of highly creative and experienced graphic designers will convert your concept into a beautiful street banner design to fit you needs.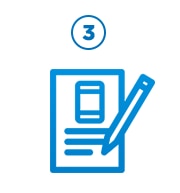 APPROVE ART
You are in complete control of your final design! You will receive a proof or layout of your design so you can make changes and check spelling prior to starting production. We do require your signature of approval sent by fax or email on the layout before we will finalize your order.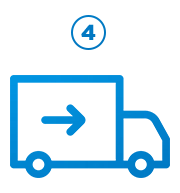 PRODUCT SHIPS
Once we receive your signed proof, we will send your order out directly to our production team. Production can take up to 2-3 weeks and then your custom product is shipped and delivered to your doorstep. All that's left to do is open the package and set up you new product!