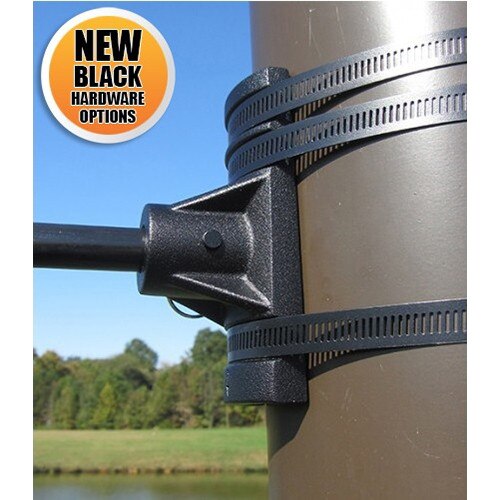 Street Pole Banner Bracket - Bannerguard™
Details
Full Product Details of Our Pole Banner Hardware Kit:
Bannerguard™ pole banner hardware kit is our most popular and economical street pole banner bracket set. This exclusive Carrot-Top product is available in three sizes and two colors. Choose the size and color that best suits and matches your location.
Designed for use on standard round utility or light poles
Available in three sizes to accommodate varying banner widths: 17", 23", and 30"
Each set includes top and bottom hardware with your choice of a single or double banner display
Color options include black or silver so you can match to the hardware at your location
Ideal for light to moderate wind locations

To get your Bannerguard Hardware System:
Select color and choose either the single or double banner display.
Select the banner arm length that best suits your banner needs.
Before entering the quantity, review our quantity discounts for great deals and savings.
Why Buy the Bannerguard™ Pole Banner Hardware kit?
Our street pole banner bracket set offers flexibility and strength. This system displays our new vinyl mesh banners as the mesh material reduces the wind load tension. It's available in a powder-coated black color or semi-polished silver color. Both variations of the street banner hanging hardware come with the option of double or single banner arms to display one or two banners in tandem. The Bannerguard hardware pieces are built to display street banners with a standard width of 17", 23", and 30".
The hardware system is designed for use on any standard light pole. The single banner arm Bannerguard™ hardware pieces come with six stainless steel bands for attachment to the pole, two banner arms, two backplates to hold the banner arms, and two plastic cable ties (zip ties) to securely attached the street banner to the hardware. The double street banner display hardware contains six stainless steel bands, four banner arms, four backplates, and four cable ties. The Bannerguard™ street banner hardware is designed to be used in areas with little to
Are you Looking for Street Pole Banners for Your Bracket Set?
Designing your own personalized street banner is simple with Carrot-Top Industries. Browse our custom outdoor vinyl banners and custom mesh banners. Alternativity, check the complete list of our custom street banners.