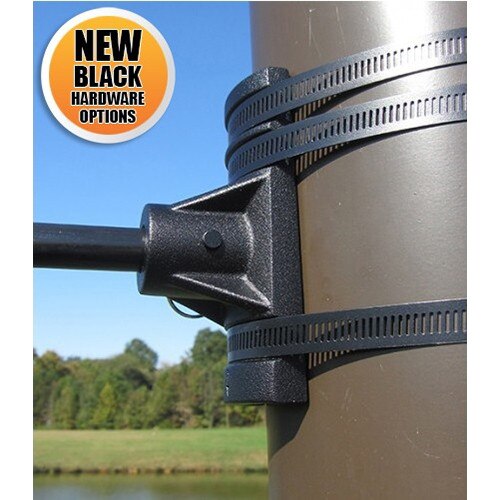 Street Pole Banner Bracket - Bannerguard™
Details
Full Product Details of Our Pole Banner Hardware Kit:
Secure your street banner to your streetlight or utility pole using Bannerguard™. Our Bannerguard™ pole banner hardware kit is our most popular and economical street pole banner bracket set. This exclusive Carrot-Top product is available in three sizes and two colors to match your location.

Designed for use on standard round utility or light poles

Available in three sizes to accommodate varying banner widths: 17", 23", and 30"

Each set includes top and bottom hardware with your choice of a single or double banner display

Color options include black or silver so you can match to the hardware at your location

Installs easily using durable fiberglass poles

Ideal for light to moderate wind locations
Why Buy the Bannerguard™ Pole Banner Hardware Kit?
This street pole banner bracket set offers flexibility and strength when displaying your light pole banner. It's available in a powder-coated black color or semi-polished silver color. Choose the single style if displaying one banner or double if displaying two banners in tandem. This bracket system is designed to display street banners with a standard width of 17", 23", and 30" for use on a standard light pole. Its removable fiberglass rods make installation and takedown quick and easy.
Components of the Bannerguard™ Pole Banner Hardware Kit
The single banner arm Bannerguard™ hardware pieces come with six stainless steel bands for attachment to the pole, two fiberglass banner arms, two backplates to hold the banner arms, and two plastic cable ties (zip ties) to securely attach the street banner to the hardware.

The double street banner bracket kit contains six stainless steel bands, four banner arms, four backplates, and four cable ties.
Street Pole Banner Brackets FAQ
Please field any additional questions regarding banner bracket hardware to our Flag Pros via our contact us form.
1. How do I attach my street banner to a square pole?
We recommend using gaskets to attach your street banner hardware to a square pole.
2. Can I buy replacement parts for my street pole banner bracket?
Order online or contact our Flag Pros to order replacement parts for your banner bracket.
3. What street banners can I use with my banner bracket hardware?
Our Bannerguard™ banner bracket kit will secure 17", 23", and 30" street banners to any round pole. Our custom street banners come in many durable materials to showcase your signage or promote your special event. Our premium custom vinyl street banner is our best seller and recreates high-quality artwork in stunning detail. These street banners provide spectacular displays in areas with light to moderate winds.
4. Need Stronger Street Pole Banner Brackets?
While our Bannerguard™ pole banner hardware kit is designed for areas with low to moderate wind, Carrot-top carries banner bracket hardware suited for all localities. Those who live in areas with high winds should consider purchasing our heavy-duty Bannermaster™ pole banner hardware kit. These banner hardware kits come with stainless steel straps and can sustain wind loads up to 77 mph. Pair with our brand-new custom mesh vinyl banners for a durable display that reduces strain on your lamp post or utility pole.
Decorate Your City with Carrot-Top
Products!
Carrot-Top sells high-quality commercial-grade products so cities and businesses can prepare for large events without worry. Carrot-Top sells many products beyond our street light poles that will decorate your city. Our Metropolitan™ pre-mounted flag set comes with our classic Beacon® Nylon American Flag, flagpole, mounting hardware, and ball finial so you can easily line your street with American flags. When you need help selecting the right hardware or street banner, count on our Flag Pros to walk you through the process. Fill out our contact us form if you need their assistance.