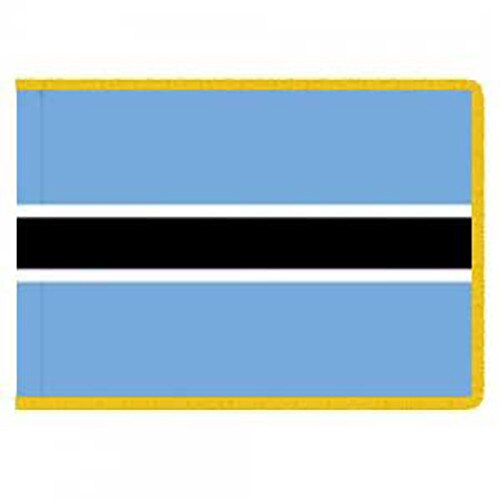 Details
Indoor Botswana flags are designed according to the official guidelines dictated by the government of Botswana. These flags come fitted with a gold fringe and a lined pole sleeve that allows the flag to be attached or mounted on any indoor or parade flag pole.
The Indoor Botswana flags measure 3'x5'. For more details about these flags see the description below. TO order a flag enter the quantity desired and click on the "Add to cart" button.
Our Indoor Botswana flags are long lasting flags ideally used in displays that require the flag to be mounted at all times. These flags are perfect for professional and official flag displays with their polished look and gold fringe. The flags have a lined pole sleeve that can be used to attach the flag to an indoor flagpole or parade pole with ease. The pole sleeve is also large enough to accommodate any indoor flag pole making it a versatile indoor flag.
The indoor Botswana flag is an exact replica of the original flag of Botswana made according to the regulations. This flag design was adopted in 1966 and features a light blue background with a black stripe in the center sandwiched by two thinner white lines. The light blue background is a symbol for the sky and the white and black lines are a reminder of the unity and harmony in between the different people or different races in the country.
See our outdoor Botswana flag for a great long lasting flag that can be used in all-weather conditions. Pair an indoor flag with our indoor and parade flag poles ideal for these displays. We supply indoor flag pole accessories to polish off a flag display. Browse through our collections of American flags, flag poles, custom products and property management items to find items to suit your needs. For more details please fill out our contact us form today.